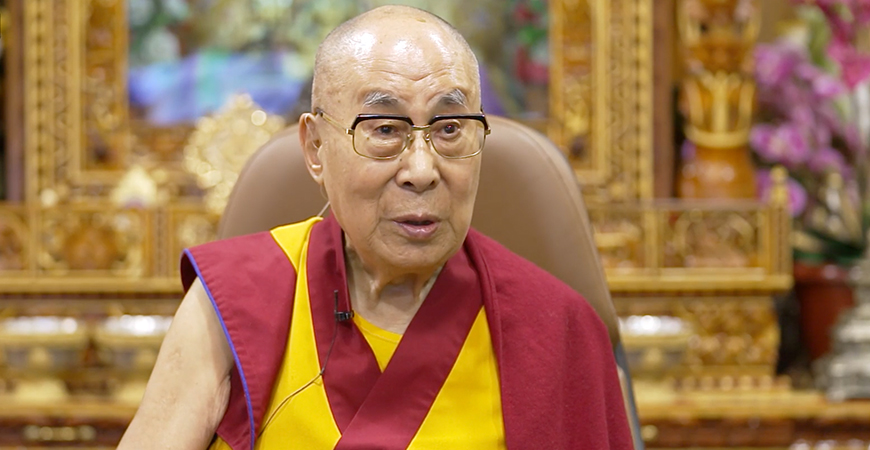 A special recognition over a decade in the making was celebrated this month as His Holiness the 14th Dalai Lama was awarded the Alice and Clifford Spendlove Prize in Social Justice, Diplomacy and Tolerance. In his message upon accepting the prize, he stressed the importance of peace and working together to survive in this world.
The Dalai Lama, Tenzin Gyatso, is the spiritual leader of the Tibetan people and one of the most recognizable faces of Buddhism. For decades, he has worked toward a free Tibet.
In a letter originally written in June 2010, Sherrie Spendlove, a native of Merced and founder of the Spendlove Prize, asked the Dalai Lama to join the growing list of award recipients. Twelve years later, in a virtual presentation on Sept. 18, he became the 15th person to receive the award, honoring his messages of compassion and kindness that have modeled a new way of creating peace and understanding in the world.
During the program, moderated by literature and philosophy Professor Nigel Hatton and shown again at UC Merced on Sept. 26, the Dalai Lama told the audience that people must stop thinking of "we" and "they," which he said is the basis of violence.
"Peace doesn't come from the sky. Who creates problems? We human beings," he said. "More than 7 billion human beings are human brothers and sisters. We have to live together."
After China's invasion of Tibet in the 1950s, the Dalai Lama was forced to escape into exile. He has lived in northern India ever since.
His Holiness spoke about the importance of preserving the Tibetan identity.
"We want a genuine autonomy and to remain part of the People's Republic of China, complete freedom and the full right to preserve our own identity and our own culture," he said. "It's become very clear Tibetan language is the best language to explain complicated Buddhist philosophy and logic. World preservation of Tibetan language is very important."
The 87-year-old touched on other topics, including living with one another without weapons or armies and protecting the environment. As the program neared the end, he talked about respecting the teachings of different religions.
"My commitment is to try to promote religious harmony. I respect all major world religions," he said. "Basically, all religions teach us warm heartedness, honesty, truthfulness. I am fully committed to promoting real human deep value that is human compassion."
"According to the late Zen Buddhist monk Thich Nhat Hanh, there is a misconception about Buddhism. It is not a religion; it is a practice, like yoga. It can be combined with any religious or spiritual tradition. One can be Christian, Jewish, Muslim, Hindu or anything else and still practice the Buddhist tenets of compassion, kindness, forgiveness and love," Spendlove said. "The Dalai Lama's message to us was essentially to be who we are, but to be the best version of ourselves."
The award is made possible by a generous gift from Spendlove. It was founded in 2005 in honor of her parents, Alice and Clifford Spendlove, who were lifelong professionals dedicated to the lives of citizens, youth and students of the Merced region.
Every year, the Spendlove Prize honors an individual who can serve as a role model and inspirational figure for students, faculty and the community surrounding UC Merced.
"This year's Spendlove Prize recipient, His Holiness the 14th Dalai Lama, truly is a global leader, a voice for the underrepresented and a force for good in a troubled world," UC Merced Chancellor Juan Sánchez Muñoz said.
The Spendlove Prize Selection Committee is chaired by School of Social Sciences, Humanities and Arts Dean Jeffrey Gilger, Sherrie Spendlove as the representative from the Spendlove family, Hatton as faculty member, Lee Anderson and Charlie Bennett as community representatives, and Jamie Moore and Nyjah Robertson as student representatives.
Past recipients of the Spendlove Prize include Merced native and Harvard Professor Charles Ogletree Jr., who was the first person to receive the award at UC Merced's grand opening on Sept. 5, 2005; former President Jimmy Carter, a friend of the Dalai Lama; UC Santa Cruz Professor Faye Crosby; 2016 Pulitzer Prize winning poet Peter Balakian, a leading voice of Armenian Genocide recognition; attorney and Professor Anita F. Hill; 1992 Nobel Peace Prize winner Rigoberta Menchú Tum; human rights activist and 2018 Nobel Peace Prize recipient Nadia Murad; and civil rights activist and Black Lives Matter Global Network co-founder Alicia Garza. The complete list of recipients is available online.
To mark the 15th prize and express the university community's appreciation for her generosity, Muñoz and Vice Chancellor and Chief External Relations Officer E. Edward Klotzbier presented Spendlove with a framed portrait depicting the past recipients during the Sept. 26 program.
"After 17 years and 15 prize recipients, I celebrate all that we have accomplished together," Spendlove said. "I look forward to continuing a conversation through the work of Spendlove Prize recipients."
To learn more about the Spendlove Prize and view virtual ceremony recordings, visit the award's web page.