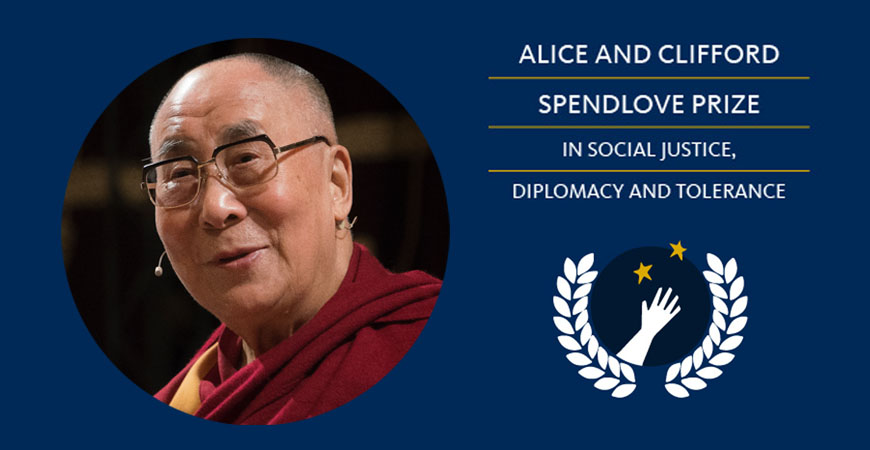 His Holiness the 14th Dalai Lama has been awarded the Alice and Clifford Spendlove Prize in Social Justice, Diplomacy and Tolerance. A pre-recorded showing of the presentation on Monday, Sept. 26, will celebrate the 15th prize recipient.
The Dalai Lama, Tenzin Gyatso, is a man of peace, the spiritual leader of the Tibetan people and one of the most recognizable faces of Buddhism. For decades, he has worked toward a free Tibet.
"In our increasingly politically-divided and highly confrontational world, the messages of kindness, peace, compassion and forgiveness of His Holiness the 14th Dalai Lama are helpful, not only in advancing sustainable social justice using non-violent methods, but also as a path to better interpersonal relations and a more meaningful life," said Sherrie Spendlove, who established the Spendlove Prize at UC Merced.
The award is made possible by a generous gift from Spendlove, a Merced native. It was founded in 2005 in honor of her parents, Alice and Clifford Spendlove, who were lifelong professionals dedicated to the lives of citizens, youth and students of the Merced region.
Every year, the Spendlove Prize honors an individual who can serve as a role model and inspirational figure for students, faculty and the community surrounding UC Merced. The prize has an annual value of $15,000.
"In naming the Dalai Lama the latest recipient of the Spendlove Prize, UC Merced recognizes a global spiritual leader committed to expressing the importance of happiness, compassion, warm-heartedness, self-discipline, friendship and human solidarity amongst our diversity," said Professor Nigel Hatton, with the Department of Literatures, Languages and Cultures, and moderator of the presentation.
The Dalai Lama was born on July 6, 1935, to a farming family in a small village in northeastern Tibet. At the age of 2, the child, then named Lhamo Dhondup, was recognized as the reincarnation of the previous 13th Dalai Lama. He received a monastic education starting at age 6 and obtained the Geshe Lharampa degree, equivalent to the highest doctorate in Buddhist philosophy, at 23.
Following China's invasion of Tibet in 1950, the Dalai Lama was called upon to assume full political power. Nine years later, after Chinese troops suppressed the Tibetan national uprising in Lhasa, His Holiness was forced to escape into exile. He has lived in Dharamsala, in northern India, ever since.
In 1963, the Dalai Lama presented a draft democratic constitution for Tibet. The Charter of Tibetans in Exile enshrines freedom of speech, belief and movement, and also provides detailed guidelines on the functioning of the Tibetan administration with respect to Tibetans living in exile. The Dalai Lama also addressed members of the U.S. Congress in 1987, in which he proposed a Five-Point Peace Plan for Tibet.
In 1989, the Dalai Lama was awarded the Nobel Peace Prize for his non-violent struggle for the liberation of Tibet. He also became the first Nobel Laureate to be recognized for his concern for global environmental problems.
The Dalai Lama requested to be relieved of his temporal authority in 2011, putting an end to the 368-year-old tradition of the dalai lamas serving as both the spiritual and temporal head of Tibet.
To date, His Holiness has traveled to more than 67 countries across six continents, authored or co-authored over 110 books and received more than 150 awards, honorary doctorates and prizes in recognition of his messages of peace and other concepts.
The Dalai Lama was officially presented with the Spendlove Prize in a virtual ceremony on Sept. 18, prior to the observance of the International Day of Peace on Sept. 21. This year's theme is "End racism. Build peace."
"This has been the Dalai Lama's goal across several decades of leadership, countless speeches and teachings to communities across the world, and now, a great trove of inspirational and informative social media posts," said Hatton. "His Holiness embodies not only the importance of spiritual life, but also the examined mind. As he recently noted, 'since human beings have a natural ability to think things through, education is a key factor in creating a better future.'
"His sustained commitment to these and other important human values led the Spendlove Prize Selection Committee to name His Holiness the 15th recipient of the prize, uniting him with his friend, former President Jimmy Carter, as distinguished Spendlove laureates."
In the 2014 documentary "Dalai Lama Awakening," Carter, who was presented with the Spendlove Prize during a visit to UC Merced in 2010, spoke of His Holiness' "unique role in the world."
"[The Dalai Lama] represents a new kind of world leader who embodies the principles of peace and inner development, who shows us through the general way he leads his life that the path of patience to nonviolence - while it may take longer, it enhances our human dignity," the former president said.
Past recipients of the Spendlove Prize include Merced native and Harvard Professor Charles Ogletree, Jr., who was the first person to receive the award at UC Merced's grand opening on Sept. 5, 2005; UC Santa Cruz Professor Faye Crosby; 2016 Pulitzer Prize winning poet Peter Balakian, a leading voice of Armenian Genocide recognition; attorney and Professor Anita F. Hill; 1992 Nobel Peace Prize winner Rigoberta Menchú Tum; human rights activist and 2018 Nobel Peace Prize recipient Nadia Murad; and civil rights activist and Black Lives Matter Global Network co-founder Alicia Garza. The complete list of recipients is available online.
The Spendlove Prize Selection Committee is chaired by School of Social Sciences, Humanities and Arts Dean Jeffrey Gilger, Sherrie Spendlove as representative from the Spendlove family, Hatton as faculty member, and Lee Anderson and Charlie Bennett as community representatives.
The program on Sept. 26 will take place in the Dr. Vikram and Priya Lakireddy Grand Ballroom at UC Merced. It will include a pre-reception at 5:30 p.m., followed by the pre-recorded showing at 6:30 p.m. Those interested in attending must register online prior to the event.
Anyone seeking more information can send an email to signatureevents@ucmerced.edu.