With the flourish of a pen on Tuesday (Sept. 27), students in the Modesto area gained an expedited pathway to become future Bobcats at the University of California, Merced.
UC Merced Chancellor Juan Sánchez Muñoz, Modesto City Schools (MCS) Superintendent Sara Noguchi and other educational partners participated in a signing ceremony to bring the Merced Automatic Admission Program (MAAP) to the school district.
MAAP is a partnership between the university and several Central Valley school districts that guarantees admission to students who complete specific requirements by the time they graduate. The program allows students who complete the A-G courses for first-year UC admission with a weighted GPA of 3.5, with no grade lower than a "C" to be automatically admitted to the university through a streamlined process.
Muñoz emphasized that UC Merced was established not just in the Valley but for the Valley and said the university will hold true to that promise.
"We are deeply committed to our Valley neighbors, their families and their success, and we know that the best path to social mobility is through higher education," he said. "We want local students to join our community. We want to show them the universe. We want them to know that UC Merced is a place where there are no limits on your intellectual journey."
Noguchi thanked the university and everyone involved for providing another opportunity for students who are interested in continuing their education after high school.
"We are thankful to Chancellor Muñoz and our partners at UC Merced for expanding opportunities for our students to receive guaranteed admissions," she said. "We are also grateful to our MCS high school and college counselors for their unwavering commitment to preparing our students for academic success. This unique partnership helps us double-down on our district goal to ensure equitable access for all students to attain college and career readiness. We are so thrilled to light the path of success for our students."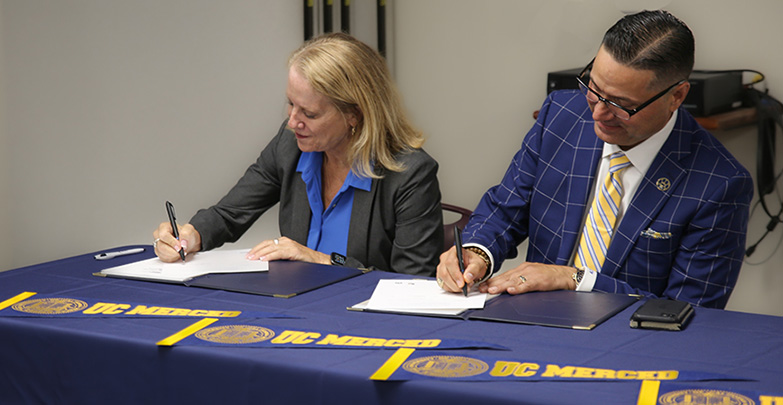 Modesto City Schools is the sixth school district to join MAAP. UC Merced Director of Admissions Dustin Noji said he hopes this latest partnership will draw even more students to the university to become the problem-solvers of tomorrow.
"There's such a wealth of student talent in the Modesto area, and we're excited to expand the MAAP program and encourage them to start their journeys at UC Merced," he said.
In March 2021, Merced Union High School District became the first partner of MAAP. Since then, Dinuba Unified School District, Cutler-Orosi Joint Unified School District and Chowchilla Union High School District have joined the program list.
Recently, Los Banos Unified School District also signed on, with Superintendent Mark Marshall pointing out that the partnership will be another tool to help with students' success.
"The Los Banos Unified School District has a strong relationship with UC Merced. We are excited to join the Merced Automatic Admission Program. This will allow our students greater opportunities and access to higher education. We appreciate UC Merced and their continued focus on opening pathways to higher education for underserved communities," he said.
Students interested in the program must submit their MAAP applications by July 1, before their senior year begins. They will be notified to submit their UC applications by Nov. 30. Program participants will be prioritized in the application review process and notified of their admissions in early March.
To learn more about MAAP, visit the program's website.