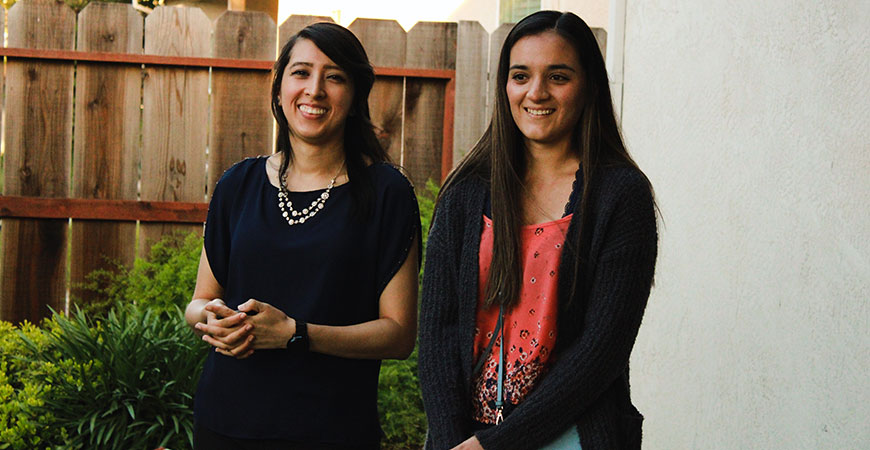 Professor Katrina Hoyer 's lab is helping UC Merced serve the San Joaquin Valley community through its studies of immune responses to Valley fever and other diseases.
Graduate students Susana Tejeda-Garibay and Nadia Miranda are exploring fungal and host immune interactions in Valley fever, and they have both earned prestigious research fellowships to further their work.
Tejeda-Garibay received the Ruth L. Kirschstein National Research Service Award (NRSA) Individual Predoctoral Fellowship to promote Diversity in Health-Related Research from the National Institutes of Health (NIH), and Miranda has been awarded the UC-National Lab In-residence Graduate Fellowship.
Valley fever is endemic to the Southwest. It is a diagnostically challenging disease: Patients with acute infections present the same symptoms as someone infected with a common cold or the flu, leading to many misdiagnoses. Often, patients are prescribed several rounds of antibiotics before they are correctly diagnosed. But by then, their natural microbiota has been depleted, potentially making them more susceptible to Valley fever infection.
"I think examining microbial interactions is key for understanding patient outcome," Tejeda-Garibay said. "Not just in the Valley fever field, but at times, the immunology field neglects to look at multiple microbial interactions at once and how this impacts the host health."
Tejeda-Garibay, a third-year student from the Modesto area, is studying the impacts of antibiotics on Valley fever and host microbiota interactions. Her work could provide insight into the impacts of antibiotic treatment during infection.
The lab also previously published a Valley fever pediatric patient study, identifying an association between immune regulation and chronic infection. Miranda's work looks to further understand the immune regulatory mechanisms controlling disease severity. The data from her work could provide clues to how some patients can clear their infection while others develop the persistent disease.
"We know little about the specific mechanisms of immune cells and how they can promote infection clearance or infection persistence. I'm excited to dig deeper into the cell-to-cell interactions," Miranda said.
Tejeda-Garibay and Miranda, a third-year student from San Francisco, both identify as first-generation, Latina scientists. Earning these grants represented key accomplishments for them not just as researchers but also as first-gen scholars.
"I'm excited for, and proud of, Susana and Nadia. They are bright, motivated scientists, and I enjoy mentoring them and learning from their unique questions and perspectives," Hoyer said. "Our UC Merced graduate students are doing great research and I look forward to watching them make scientific advances throughout their careers."
The students are understandably proud of their accomplishments.
"Being awarded this fellowship not only brought recognition from the National Institutes of Health to UC Merced, it also helped recognize underrepresented minority perspectives in science," Tejeda-Garibay said.
As a side-benefit, Miranda said the honor helped her begin to overcome a common challenge for grad students: imposter syndrome.
"It helped me believe in myself, like 'I can do this,'" she said.
Both women appreciate the lab presenting them with an opportunity to serve their local community.
"I've been a resident of the Central Valley my entire life and being able to conduct research to help the Valley is motivating," Tejeda-Garibay said. "Some people think that to further the Valley means you have to leave, learn new skills and then bring them back. But I'm proud of being a scholar at UC Merced, which is located right in the community it serves."
Miranda agreed.
"Valley fever research is important to me as a Latina. Valley fever grows in the soil so folks who work outside, such as laborers, construction workers and agricultural workers are all exposed," Miranda said. "In California, a large percentage of these folks are Hispanic and/or Latiné identifying, so I feel like I'm directly working on something that impacts my community."
UC Merced does have a robust, diverse graduate student population: More than 65 percent of all students self-identify as first-generation and over 70 percent self-identify as belonging to a minority ethnic group. Both scholars credit diversity-centered programs for influencing their beginnings in science. In their undergraduate careers, Tejeda-Garibay was vice-president of the Society for Advancement of Chicano/Hispanics and Native Americans in Science (SACNAS), and Miranda was a scholar in the Louis Stokes Alliances for Minority Participation (LSAMP), Education Opportunity (EOP) and McNair programs.
Each of the young women hopes their experiences can inspire others.
"Take things slow and believe in yourself," Miranda advised fellow students. "Everyone gets imposter syndrome and you're not alone. Science is for everyone and if I can do it, so can you!"
"Trust your instincts," Tejeda-Garibay said. "Everything happens for a reason. You're exactly where you're meant to be and if you're not, it's a stepping-stone or lesson that will help you get to where you'll thrive."