After two years, the National Science Foundation-funded CREST STEM Camp returned to in-person activities on campus this summer, giving 26 middle school students from around the Central Valley and beyond exposure to exciting STEM topics and the abundant opportunities that exist in STEM fields.
"Our center was really excited to offer in-person STEM programming again in summer 2022, as we used to do each summer. It was a joy for all of us to welcome these students to campus and provide them with a rich and hands-on in-person experience," Executive Director of the NSF-CREST Center for Cellular and Biomolecular Machines (CCBM) Carrie Kouadio said.
The goal of the CREST STEM Camp was to expose diverse middle school students to various STEM fields, including physics, biological science, chemistry,
engineering, mathematics and environmental science, through a variety of hands-on and interactive sessions in a supportive and welcoming university environment.
"The participating students truly appreciated the chance to be actively involved in engaging labs and activities led by knowledgeable UC Merced affiliates. The activities they did with the instructors supplemented their regular education but are ones they would typically never have the chance to do in a standard classroom," Kouadio said.
Students had the opportunity to engage in various activities throughout the last week of July, including, projects, lectures, discussions, campus tours, lab tours, trainings, research activities and interactions with diverse scientists and engineers. Participants learned about what it is like to do scientific research and to be a scientist.
The camp was made possible by leadership and funding from the NSF-CREST CCBM in collaboration with multiple research groups, including professors Bin Liu, Ajay Gopinathan, Kara McCloskey, Victor Muñoz, Linda Hirst, Arvind Gopinath, Anand Subramanian, Jennifer Manilay, as well as the Biophysics Club.
In addition, UC Merced graduate students and postdoctoral researchers including Joshua Tamayo (CCBM Outreach Fellow), Tajin Ahmed, Fereshteh Memarian, Nimra Khurram, and others led sessions and assisted with the camps.
Gopinathan, CREST Center Co-Director who leads the direction of the center, along with Muñoz, has been active in the center's outreach programming since its establishment. He also recognizes the value of these opportunities for young students to explore STEM topics on a college campus.
"Being exposed to STEM research in a hands-on fashion at an early age is a great way to increase interest and broaden participation in these fields. I personally had a great time interacting with the excited, inquisitive and engaged kids who might hopefully be inspired to be our next generation of researchers and leaders," Gopinathan said.
In addition to CREST STEM Camp, 10 students from the Fresno American Indian Health Project (FAIHP) participated in a day of STEM activities with the NSF-CREST Center, in collaboration with the Gopinath and Subramaniam research groups. Students participated in an edible mathematics lesson, biology/microscope-focused activities with a high-tech instrument, and a Merced Vernal Pool and Grassland Reserve tour with data collection and analysis with Joy Baccei who directs activities for the reserve.
Gopinath participates in CREST Center-hosted outreach as part of collaborations related to his NSF CAREER award.
Ruben Garcia, who is a member of the FAIHP leadership, said he enjoyed the collaboration.
"Visiting UC Merced was a great experience to get our Native youth on campus. They enjoyed the hands-on learning experiences with UC Merced students and faculty. FAIHP thanks UC Merced staff, faculty, and students for a great day of fun and learning," Garcia said.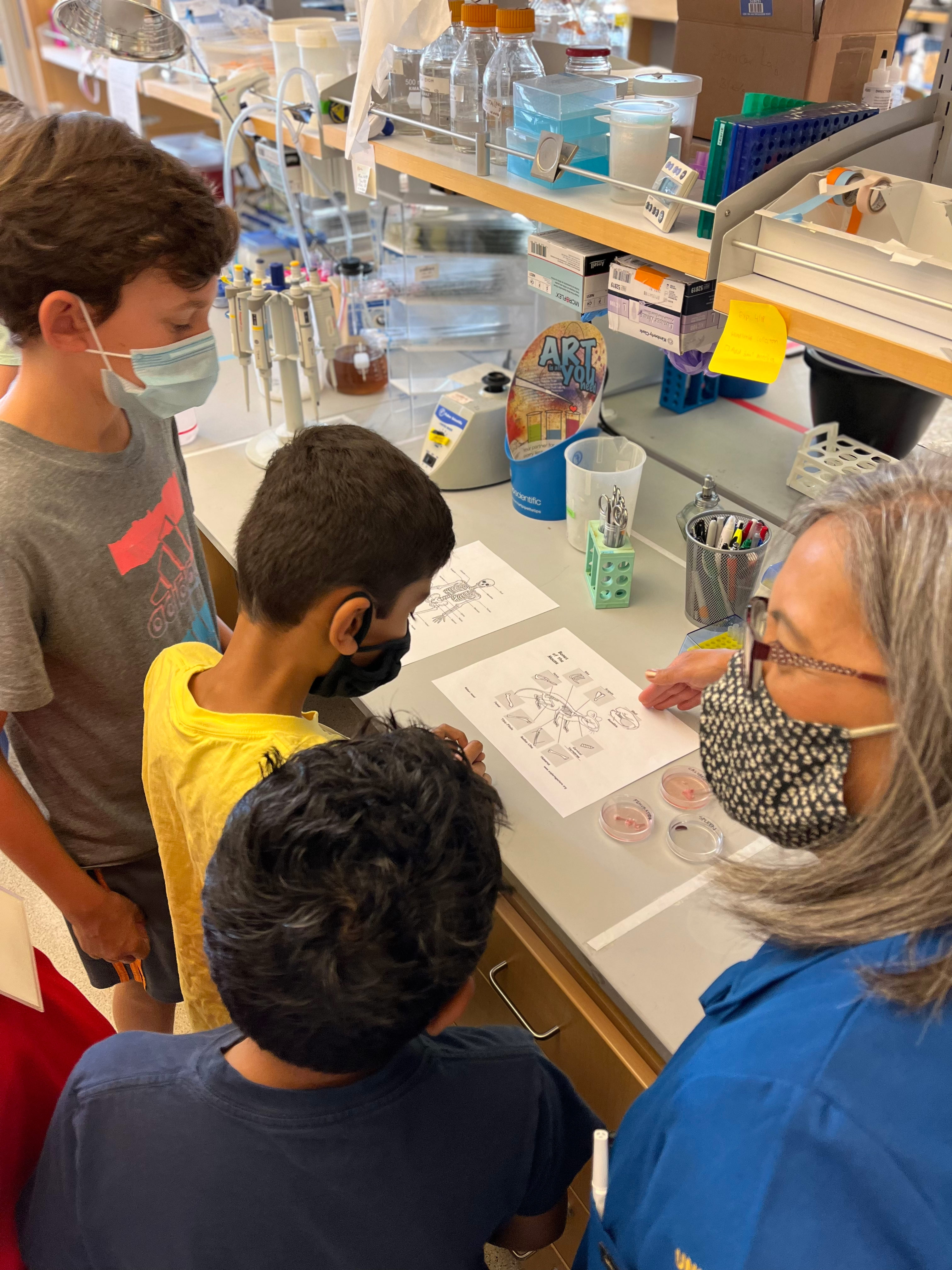 The center was active with other outreach in the summer as well. CCBM Outreach Fellow Joshua Tamayo led sessions for participants in the medical careers camp hosted by CalTeach, a CCBM partner, in June 2022. In August and September, the CCBM offered their CCBM Virtual Sessions 2022 which are open to all. Sessions led by faculty and staff included extracting DNA from strawberries and modeling cell movements on a computer.
The CREST Center is eager to host its annual Open House in the 2022-2023 academic year as well and has begun planning for this event. Activities will include a keynote lecture on an appealing scientific topic, scientific demonstrations, lab tours and more. The event will be open to university affiliates and members of the Merced community and beyond. Details will be posted at the CCBM website.
CCBM continues to be active in providing useful sessions for all levels that are open to University affiliates and the community. On Tuesday, Oct. 11, please join CCBM as they host Scientific Multimedia Producer for Columbia University's Zuckerman Institute Matteo Farinella as he leads  the session "Science Comics' Super Powers." Those interested in participating in this session can register here. 
The center will also be presenting a series of in-person sessions on Oct. 13-14 led by Daniel Wong, Assistant Dean for Academic and Postdoctoral Services in the Graduate Division at the University of California, Los Angeles, The session topics include "Managing Up: Negotiating the Relationship with Your Supervisor" and "The Art of Conversation: How and Why to Speak to Strangers (and Network Effectively)." Those interested to participate can obtain more information and register here. The sessions are open to all.
For more information and a complete list of other sessions, visit the CCBM's outreach website and main website.

Public Information Officer
Office: (209) 746-5137