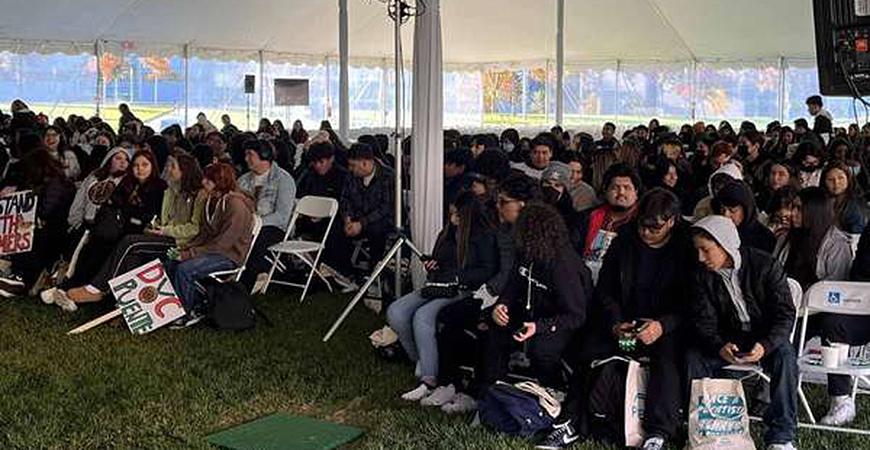 Almost 1,000 community college students representing 39 different campuses in California came to UC Merced to explore the opportunities for transfer to a University of California school.
The all-day Puente Motivational Conference introduced the students and more than 100 faculty members to admissions counselors from across the University.
"I look out at you this morning and I see hope," said UC Merced Chancellor Juan Sánchez Muñoz, who welcomed the group to campus and talked about the myriad institutions in the Central Valley alone where the students can complete bachelor's degrees.
Students also heard from author and social justice activist Julissa Arce before joining breakout groups across campus.
Puente is a four-year college preparatory program sponsored by the UC Center for Educational Partnerships. Puente's mission is to increase the number of educationally underserved students who enroll in four-year universities, earn degrees, and return to the community as leaders and mentors to future generations.
"These students were energized and deeply engaged by the opportunities that the University of California presented to them for furthering their education and advancing their future goals," said Muñoz. "UC Merced and our sister campuses would be proud to have them contributing to our campus community."
"The Puente Project and our team have been planning and looking forward to this day for over four months. It was a fantastic day and a privilege to host over 1,000 talented Puentistas on our campus," said Dustin Noji, UC Merced's director of admissions.
"A huge thank you to the Puente team for their work on putting together this year's conference and their continued advocacy for transfer students," he said.
Puente Project advisors expressed their appreciation for the event and the opportunity provided to their students by UC Merced faculty and staff.  
"The Puente Project's partnership with UC Merced resulted in one of the program's best annual Transfer Motivational Conferences", said Cathy Blanco Marinez, a mentor training coordinator with Puente. "The Merced Admissions staff definitely rolled out the "red carpet" for our students and the Chancellor truly made them feel like they could envision a future at UC Merced!"