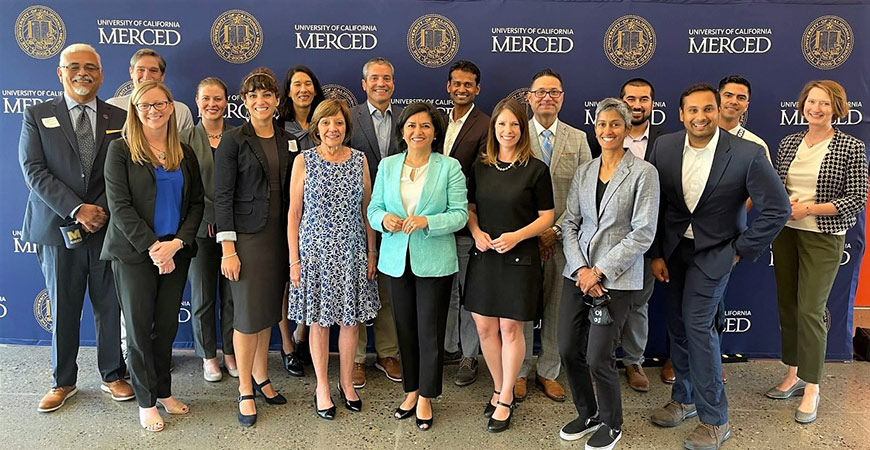 As one of the leaders for sustainability and equity, UC Merced hosted the first offsite meeting for the Governor's Strategic Growth Council (SGC) last week.
The mission of the council is to coordinate and work collaboratively with public agencies, communities and stakeholders to achieve healthy, thriving and resilient communities for all Californians.
SGC members include UC Merced Chancellor Juan Sánchez Muñoz, California Department of Food and Agriculture Secretary Karen Ross, California Health and Human Services Agency Mark Ghaly and other state leaders.
Chancellor Muñoz welcomed council members, designees and key staff to the one-day event, where attendees learned about UC Merced's research, particularly in the areas of climate change and sustainability.
During the event, guests also enjoyed a presentation about the Climates Change Research Program (CCR), a project between UC Merced and UC Irvine. The project is used to inform state policymakers on climate issues and contribute valuable data, tools and cutting-edge solutions to reduce the impacts of climate change.
Attendees also learned about how the Center for Ecosystem Climate Solutions funded toolkit works and how the state might incorporate it into their wildfire strategy as a mechanism to inform governments and communities about climate. The center was awarded $4.58 million in December 2018 through the CCR program. The funding ends in March 2023.
The in-person SGC meeting also offered a remote participation option. As a way for the council to continue to promote transparency and public participation, all sessions were open to public comments.
For more information on future meetings, visit the SGC website.

Public Information Officer
Office: (209) 746-5137