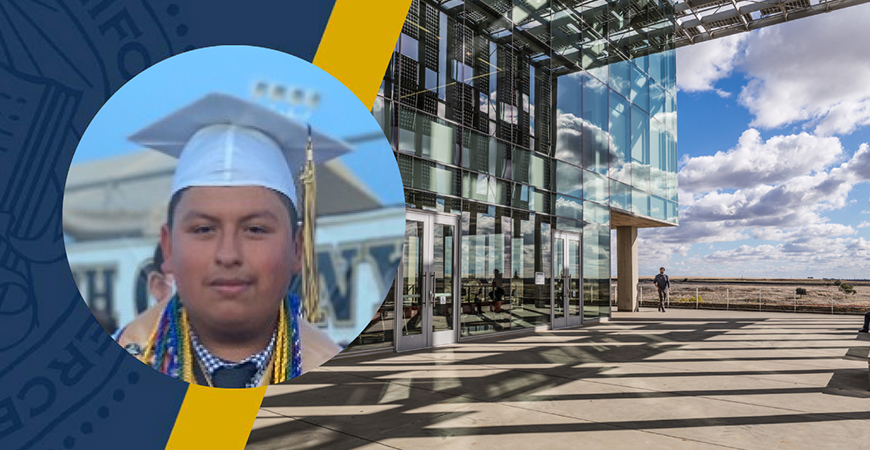 UC Merced is highlighting incoming students for fall 2022 — a dynamic, diverse and accomplished cohort of new Bobcats.
Narciso Martinez Solorio applied to 31 colleges and universities, including UCs and Ivy League schools. After being accepted to most of them and thinking about his future, the Merced resident decided UC Merced is the perfect fit for him to continue his education in the fall.
"I want to experience something different. I want to be part of a growing university, and the moment I first visited the campus I knew I would fit in easily," he said.
Not only did Martinez Solorio recently graduate as one of more than 40 valedictorians from Buhach Colony High School in Atwater, but he also received his associate degree in health sciences from Merced College at the same time.
Even though he had his hands full with coursework from two schools, he managed to stay involved in several programs and activities at Buhach Colony, including AVID, and mentoring and tutoring other students. He said becoming a mentor changed his life forever.
"I was able to help students get caught up with their credits by giving them the support that others, including family members, didn't," he said.
Martinez Solorio will be the first person in his family to attend a university. He said he is thankful for the love and support of his mother and brother, and he doesn't take for granted that they will still be close by.
"It is fascinating to attend college close to my family and friends while at the same time being apart from them since I'll be living on campus," he said.
The Buhach Colony graduate said he is also appreciative for all the financial aid he has been awarded, including the Cal Grant, Pell Grant, Bobcat Grant, Chancellor's Scholarship, among others.
Martinez Solorio will be majoring in biological sciences with an emphasis in human biology. After graduating from UC Merced, he plans to enroll in a master's program or attend medical school.
As for what he plans to do with the rest of his life, he's hoping to become a cardiothoracic surgeon or a high school science teacher.