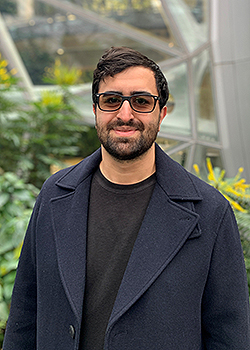 Doctoral student Ali Heydari recently received the Ruth L. Kirschstein Predoctoral Individual National Research Service Award, also known as the National Institute of Health F31 fellowship.
Heydari, who is from Minneapolis, is an Applied Mathematics Ph.D. student in Professor Suzanne Sindi's lab.
His research focus is on developing novel mathematical and deep learning frameworks to better understand complex biological systems.
"My work has helped researchers study cancer and prion diseases at finer scales, enabling them to perform more robust downstream analyses that are used for developing personalized medicine and treatment," he said. "The next aim of my research is to design novel algorithms for learning intricate genetic relationships from large-scale public datasets and to transfer the learned knowledge to small-scale experiments, thus improving the robustness and accuracy of those studies."
With the support of this fellowship, Heydari can focus on his proposed research and contributing to the wider scientific community without the need to secure additional funding.
"Receiving this fellowship is the culmination of my Ph.D. research so far, showing the potential impact of my work and allowing me to continue pursing my passion for developing mathematical frameworks that help with studying complex diseases," Heydari said. "I have the opportunity and privilege of being advised by two pioneers and brilliant researchers in mathematical biology, Professor Suzanne Sindi and Professor Elana Fertig with Johns Hopkins University."
The goal of this research is to develop computational methods for better downstream analysis of treatments and personalized treatments.
"I believe that our proposed research will provide scientists with crucial tools needed to improve the current understanding of many complex diseases, thus significantly advancing the field of mathematical biology and facilitating the development of specialized treatments and healthcare," he said.
Senior Public Information Representative
Office: (209) 228-4203
Mobile: (209) 628-8263