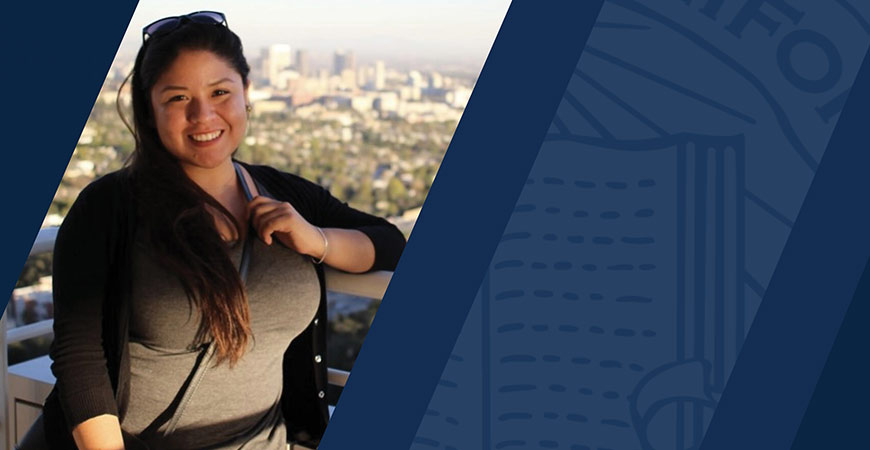 As part of her goal to give back to her alma mater as well as the San Jose community that supported and fostered her growth, UC Merced alumna Nohely Aguilar ('12) has established a scholarship to assist students who follow in her footsteps.
The Nohely Aguilar Scholarship Fund will provide financial assistance to college-bound students who select the path from Mt. Pleasant High to UC Merced, the same as Aguilar's academic journey.
Aguilar remembers her family's challenges in meeting higher education expenses and wanted to ensure that future scholars facing similar barriers had access to resources that lessened their financial burden.
"My dad was a huge advocate for education, and I know he did everything in his power to provide me with everything I needed," Aguilar said. "I want to be able to help people from a similar background and families that can use some assistance."
In addition to the direct funding provided by the endowment, Aguilar hopes future award recipients benefit from all the university offers and their scholarships empower them to make the most of their time at UC Merced.
"Their education doesn't only come from the classroom," she said. "Different organizations and activities offer a great deal of skill development and areas to learn, and this can help them in deciding what they want to do and who they want to be once they graduate. There are an endless number of possibilities."
Aguilar's trajectory from San Jose to Merced was a fortunate one. UC Merced offered her admission, and the letter arrived right before Bobcat Day. Due to the timing, she attended the spring event with her parents to learn more about the campus.
"Once we got there, there was a feeling of belonging," Aguilar said. "Everyone we interacted with was friendly and helpful, and they made us feel welcome. It was a great fit from the start."
Now Aguilar, who is a board-certified behavior analyst and currently pursuing a Ph.D. in psychology, wants students graduating from her high school to have the same access to the meaningful experiences – both academic and personal – that were so much a part of her undergraduate years. She also hopes that, like her, they will be inspired to continue helping those who come after them.
"I hope that as students begin to fulfill their goals and dreams, they too can look back and lend a helping hand to those who follow them and keep the chain of giving going," she said.
"Dedicated alumni like Nohely contribute tremendously to the continued success of UC Merced," Vice Chancellor and Chief External Relations Officer E. Edward Klotzbier said. "Her commitment to future generations of scholars represents the best of our graduates and their spirit of generosity. We could not be more grateful for her support."
"I have seen the campus' growth through the years, and I am excited to see the great things that the school and its students continue to do," Aguilar said. "I am proud to call UC Merced my alma mater."