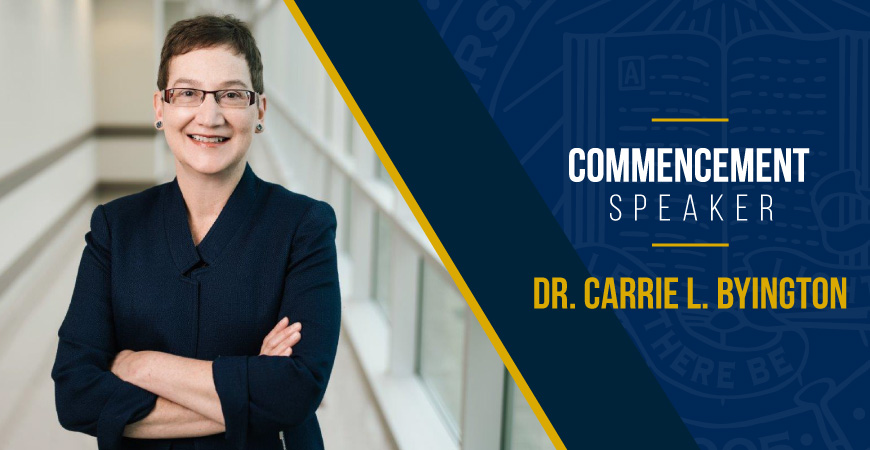 In Dr. Carrie L. Byington, the novel coronavirus met a formidable foe.
As an expert in infectious disease, Byington has been uniquely suited to use her role as executive vice president and head of University of California Health (UCH) to battle the virus that triggered a global pandemic. On April 26, UCH announced it had administered 1 million doses through a statewide COVID-19 vaccination drive.
"It has been, and will continue to be, a team effort," Byington said. "I could not be more proud of all the people across the UC who are rising to meet every challenge and working to end the pandemic."
On Saturday, May 15, Byington will give the keynote speech at UC Merced's virtual Spring Commencement. Her extensive experience will resonate with a campus community conducting public health research and that plans to launch a new medical education program in partnership with UCSF-Fresno in 2023.
Byington is board-certified in general pediatrics and pediatric infectious diseases. She has had continuous grant support as principal or coinvestigator totaling approximately $80 million since 1998.
"Joining a system that is an engine for health care progress is a dream come true."
In her leadership role with UCH, Byington provides strategic direction, oversight and development for 20 health professional schools and six academic health centers. She has clinical oversight of the UC's student health and counseling centers and administrative responsibilities for the self-funded and flex-funded health plans offered to employees. Byington also holds a tenured faculty position in pediatrics at UCSF.
"Joining a system that is an engine for health care progress is a dream come true," Byington said at the time of her appointment in fall 2019. "University of California Health is in a strong position to drive meaningful transformations that strengthen health education and improve patient care in California and beyond."
Byington is an elected member of the National Academy of Medicine and National Academy of Inventors. She chaired the infectious diseases advisory group for the U.S. Olympic Committee; the group was responsible for protecting Team USA athletes and staff from Zika virus during the 2016 Games in Rio de Janeiro.
She joined UCH after holding leadership roles in the Texas A&M University System and the University of Utah. She earned her B.S. in biology from Texas A&M University and M.D. from Baylor College of Medicine. She trained in pediatrics at Texas Children's Hospital and in pediatric infectious diseases at UCSF.