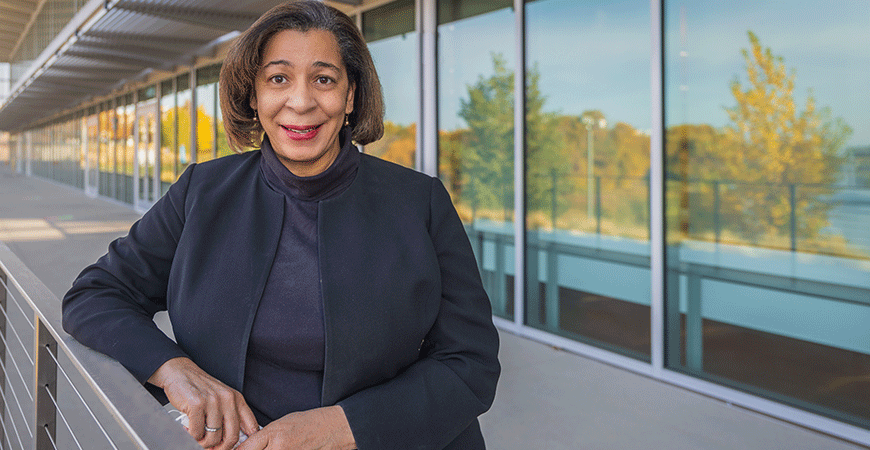 Distinguished UC Merced Director of Medical Education and public health Professor Dr. Thelma Hurd has been appointed the inaugural Thondapu Family Endowed Chair in Medical Education.
"I am both gratified and honored," said Hurd. "It is truly an important step in establishing a long-term medical education program on the campus and for the community."
Hurd, whose leadership in public health has advanced the university's community outreach and expanded medical and health-science education and training on campus, is the first UC Merced faculty member to be granted the five-year appointment.
"The generous gift of the Thondapu Endowed Chair in Medical Education advances our campus mission to improve the health of our community through education," said Chancellor Juan Sánchez Muñoz. "Dr. Hurd's lifelong commitment to public health makes her the ideal person to be appointed to this chair and to lead UC Merced's efforts."
The endowed chair was established by the Thondapu family of Merced to expand local medical education for the university and the broader Central Valley community by building a cross-disciplinary program in medical education among all campuses within the UC system.
"Our family's hope in creating the endowment was to ensure UC Merced has resources to develop a medical education program focused on addressing health inequities in our region," said Dr. Ramakrishna Thondapu. "Dr. Hurd's leadership and record of accomplishments embody these goals, and we are delighted that she will be appointed as the first Thondapu Family Chair."
Hurd joined UC Merced in 2019 as the director of UC Merced's Medical Education program after serving as a clinician, public health researcher and translational scientist.
Hurd serves on the Cutler-Orosi Joint Unified School District's Health Science Academy Executive Board, where she works with educators to tailor curricula to best serve students' science education needs. Hurd, a recipient of the Best Doctors in America designation since 2008, is a member of multiple oncology and surgical societies, and has served on national cooperative groups and journal editorial boards.
Hurd's research interests include health disparities, clinical oncology and medical education.
Hurd has been recognized with numerous honors, including a New York State Congressional Citation for excellence in community work and health care and the prestigious President's Volunteer Service Award by former President George W. Bush in 2008 for her impactful community work in the United States and Africa.

Public Information Officer
Office: (209) 746-5137