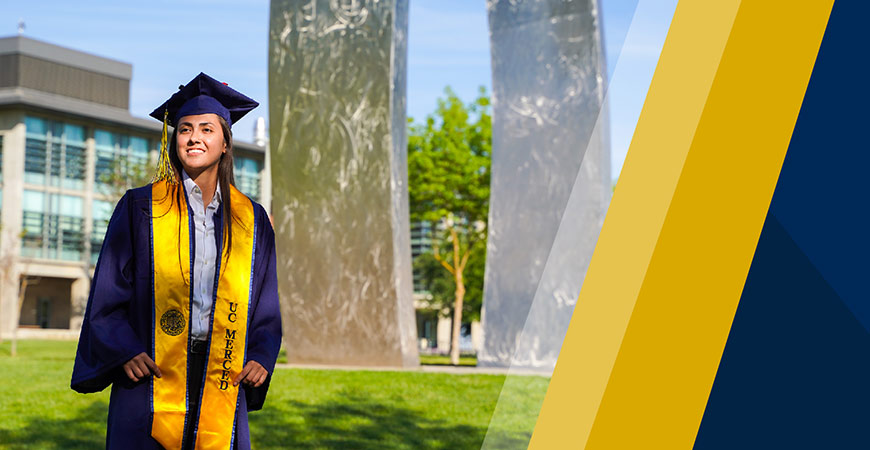 After two years of virtual celebrations, UC Merced will honor the accomplishments of the fall 2021 graduates with a traditional in-person commencement this Saturday.
In addition, the campus is also inviting summer 2021 graduates who had their commencement affected by the pandemic to join the celebration Dec. 18, at The Art Kamangar Center at The Merced Theatre in downtown Merced.
"We look forward to celebrating our graduates' who have worked very hard and have overcome challenges by holding our commencement ceremony in person once again," said UC Merced Chancellor Juan Sánchez Muñoz. "We cannot wait to see what our graduates achieve as they take the next step and apply what they have learned at UC Merced."
This year's featured commencement speaker is Na'ilah Suad Nasir, president of the Spencer Foundation. Nasir is the sixth president of the foundation. Since 1971 the foundation has invested in education research that cultivates learning and transforms lives.
The bobcat commencement ceremony will be divided into three sessions:
9 a.m. - School of Natural Sciences 
Noon - School of Social Sciences, Humanities and Arts 
3 p.m. - School of Engineering 
The university expects to graduate more than 700 students with degrees and certifications. Four hundred of those graduates are expected to participate during the in-person ceremonies.
Graduates planning to participate in the Fall 2021 Commencement will each receive four tickets, which are required for admission. Attendees are asked to follow the university's safety protocols, which require face masks worn by all individuals.
For people interested in but unable to attend commencement, the ceremonies will be live streamed through UC Merced's commencement webpage.

Public Information Officer
Office: (209) 746-5137