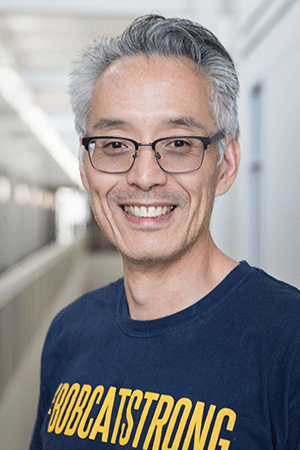 Professor Andy LiWang is now the first from UC Merced to be elected a Fellow of the American Academy of Microbiology.
Colleagues at Pontificia Universidad Catolica de Chile, Texas A&M University and University of Texas Southwestern nominated LiWang and he is one of 65 Fellows chosen from more than 150 candidates. The Academy is the honorific leadership group within the American Society for Microbiology (ASM). It selects new Fellows after two rounds of stringent review, based on their records of scientific achievement, publications and original contributions that have advanced microbiology.
"I am filled with gratitude to the Academy for this wonderful distinction," LiWang said. "This honor will hopefully also benefit how the scientific community respects UC Merced as a research institution."
Over the past 50 years there have been more than 2,500 Fellows from around the globe representing all subspecialties of the microbial sciences and involved in basic and applied research, teaching, public health, industry, and government service. The Class of 2021 includes Fellows from 11 different countries.
LiWang, a structural biologist and biochemist in the Department of Chemistry and Biochemistry in the School of Natural Sciences, studies the mechanisms of circadian clocks at the atomic level in cyanobacteria. Circadian clocks regulate biological activities in roughly 24-hour rhythms. He is affiliated with the Health Sciences Research Institute and the CREST Center for Cellular and Biomolecular Machines. He also serves on the National Institutes of Health's Macromolecular Structure and Function B (MSFB) Study Section Center for Scientific Review. He joined the campus in 2008. Additionally, LiWang is the UC Merced coordinator of the Summer Experience for the Economically Disadvantaged (SEED) Project, which hosts local high school students from families at or below the poverty line to carry out hands-on research in faculty labs each summer. He is proud to have grown it to be the largest SEED Project of the UC System.
"Andy's group has used the tools of biochemistry and structural biology to gain unprecedented insight into the structural basis for the function of circadian clocks," said Professor Anne Kelley, chair of the Department of Chemistry and Biochemistry. "I'm delighted to see him receive this recognition."
LiWang said being selected as an Academy Fellow provides a recalibrated ruler the scientific community can use to measure UC Merced's abilities to provide an adequate environment for scientific research.
"I am hopeful that distinctions like this move UC Merced closer to achieving R1 status, which I firmly believe is our most critical and time-sensitive goal," he said.