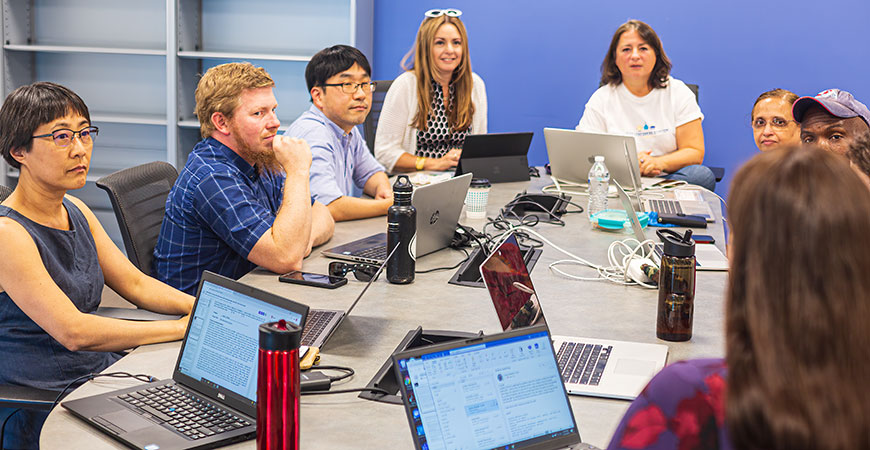 More than a few students have probably asked themselves why they have to take calculus — the course is notoriously difficult for some.
"People haven't been taught math the way it should be," Department of Applied Mathematics Professor Mayya Tokman said. "Math is practical. It's there to solve problems and answer questions. But somehow, we lost that, and math is now taught as an abstract."
A new state-funded collaboration between faculty at UC Merced and California State University, Fresno, aims to change not only students' math achievement, but their understanding of, and appreciation for, calculus.
"Calculus is an important gateway to many STEM majors," Tokman said. "You need the skills you learn in calculus for a variety of disciplines. You need it to model phenomena we see in the world around us and describe those phenomena using mathematical tools, but calculus also helps you become a critical thinker and problem solver."
Tokman said one of the biggest determinants of how well students do in science, technology, engineering and math (STEM) fields is how comfortable they are with math. Performance in calculus courses, specifically, is a major barrier to students' progress in STEM majors at both UC Merced and Fresno State, Tokman said.
Many students think they just aren't "math-minded."
Self-beliefs about math competence, regardless of actual competence, also drive students' decisions to continue in STEM majors, so providing students with experiences that positively shape those beliefs early in their college experience is important to increase retention in those majors, said Professor Zenaida Aguirre-Muñoz, who is leading the project's education research and evaluation.
"There's no one silver bullet to address all the challenges we face in overcoming educational and achievement gaps in STEM, but we know that achievement in calculus is one of the major barriers to STEM majors. Even students who aren't from underrepresented communities struggle with calculus, and we can begin to address it here."
Tokman's group includes Vice Provost and Dean of Undergraduate Education and Teaching Professor Sarah Frey; lecturer Keith Thompson; Teaching Professor Lei Yue; and professors Changho Kim, Erica Rutter and Aguirre-Muñoz from UC Merced; and faculty members Lalita Oka, Khang Tran and Comlan Souza from Fresno State. Together, they plan to present students with the "why, what and how" of calculus instead of just teaching them to replicate mechanistic calculations.
Careers that require calculus skills — besides mathematics — include aerospace engineer, biochemistry, software developer, economist, chemical, electrical and environmental engineering, research analysis, animator, astronomer and insurance underwriter, among many others.
But underrepresented students of color do not get the same chance to learn as was pointed out by then-Education Secretary John King in a 2016 article in The Atlantic.
There are gaps in calculus learning between men and women, and between high school students from well-funded school districts and their lower-income counterparts. According to a 2016 report from the U.S. Department of Education's Office for Civil Rights, only a third of the public high schools where Latino and Black kids are the majority even offered calculus.
When access to advanced classes is unequal, it's a hardship for the students — who are less likely to earn degrees in STEM fields — and a hardship for the country. Diversity in the STEM workforce leads to better science, technological inventions and innovations.
When calculus is taught, Tokman said, it's traditionally presented through lectures, and is overly focused on the mechanics of computing derivatives and integrals. Students get little, if any, exposure to questions of why the calculations are needed and what problems calculus can help to solve. That can leave students unmotivated and disengaged.
"A big problem hindering students is not that they do not know how to solve calculus problems nor their lack of interest in the subject," Tran said. "It is often that students get lost in all the technical mechanical procedures without understanding what the main concepts are, how these concepts connect with the given procedures and why they need to know these concepts. The 'why, what and how' calculus effort will address this problem."
Tokman and her colleagues will use their three-year grant from the California Department of Education to reach more than 11,000 students and engage more than 50 faculty members in taking a more interactive and inclusive approach.
"We're forming a community of instructors who will be working together to adopt this novel method of teaching calculus and we will also be creating more support and mentoring systems to help students and faculty succeed," Tokman said. "We'll all be learning together."
"It's not just the presentation of what is taught that we aim to modify. We will integrate specific design elements into the courses to shape the interactions between students and faculty and among students so that cultural strengths are highlighted, and students feel confident as future STEM professionals," Aguirre-Munoz said.
The new "why, what and how" approach resonates with the School of Natural Science's goal to identify the skill sets essential to success in STEM fields and teach students to apply those skills within the context of their major courses. The calculus reform is also designed to transform classrooms into active learning laboratories; help instructors embrace innovative approaches to teaching and learning; help students perform better in math; help close equity gaps in STEM fields; and, perhaps most importantly, create different mindsets for students who might believe they are "just no good at math."
"There's no one silver bullet to address all the challenges we face in overcoming educational and achievement gaps in STEM," Tokman said, "but we know that achievement in calculus is one of the major barriers to STEM majors. Even students who aren't from underrepresented communities struggle with calculus, and we can begin to address it here."