University of California, Merced women's soccer defender Maddie Door has been named to the CoSIDA Academic All-District Women's Soccer First Team for her stellar performances athletically and in the classroom.
This is the second consecutive honor for Door, who has maintained a 4.0 grade-point average throughout her student-athlete career as a biological sciences major. The third-year student from Sacramento is the only NAIA player from California to land on an All-District Team and is one of just two California players across all collegiate levels on an All-District Team with a 4.0. Door joins Biola's Katelynn Penner.
"I always struggled in school, so from a young age I learned that even though I was not the most gifted person, I could still be successful by working hard," Door said. "This award is a reminder to me that my future goals and aspirations are achievable if I keep putting in the work to get there. There have been many countless long days and even longer nights, so it is gratifying to have it be awarded."
Door now advances to the CoSIDA Academic All-America ballot. First, Second and Third Team All-America honorees will be announced in early December.
Previously, Door has been a member of the California Pacific Conference All-Academic Team, California Pacific Conference First Team and is a two-time Chancellor's List and Directors All-Academic Team honoree.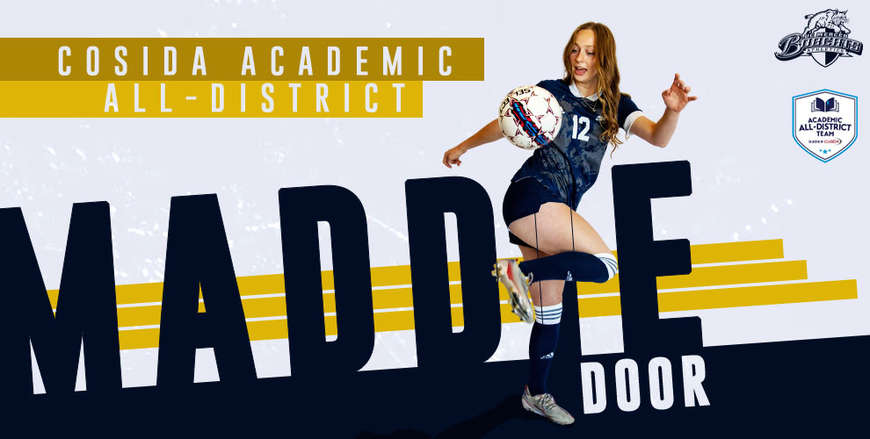 Door started all 13 games she played in this year for UC Merced as an outside back and opponents were limited to just one goal or less in nine of Door's 13 games. Door also played a role on the attack, recording an assist against UC Santa Cruz and peppering opponents with 10 shots over the campaign.
Overall in her 39-game career, Door has earned 32 starts and has tallied five assists and two goals.
To be eligible for consideration for CoSIDA Academic All-District and CoSIDA Academic All-America honors, a student-athlete must have completed one calendar year academically at their institution prior to nomination. Nominees must also be a starter or key reserve who has played in at least 50 percent of the team's games and hold a minimum cumulative GPA of a 3.3 on a 4.0 scale.
Door is one of just 16 players voted to the All-District Four First Team. States in District Four include: Alaska, Arizona, California, Colorado, Hawaii, Idaho, Montana, New Mexico, Nevada, Oklahoma, Oregon, Texas, Utah, Washington and Wyoming. Canada is also a part of District Four.
For more information on CoSIDA's Academic All-District and CoSIDA's Academic All-America program, and to view the full teams, click here.