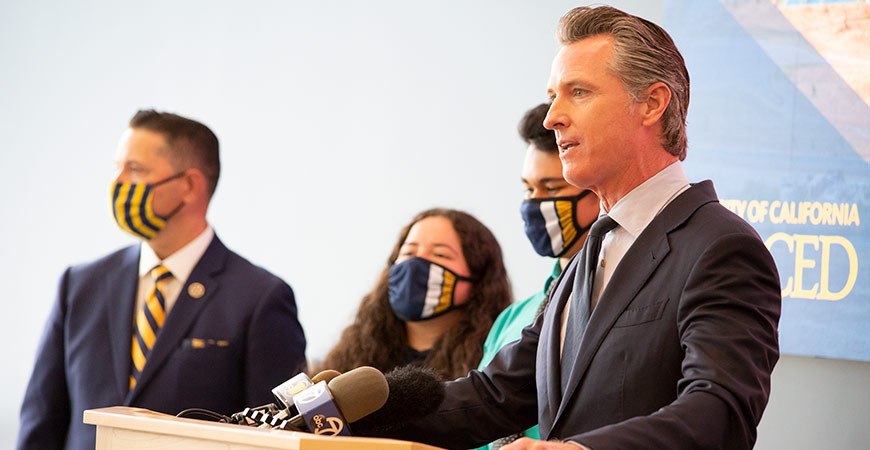 Gov. Gavin Newsom, speaking at UC Merced on Monday, announced that the state will support the building of the university's new medical education building.
The Health, Behavioral Sciences and Medical Education Building will support a B.S.-to-M.D. joint degree program with UCSF-Fresno, starting in 2023, along with public health and psychological sciences faculty and students.
"We hope that students stay in the Valley and serve the people who made their education possible. To develop the talent, it takes time. But this is the beginning," Newsom said.
Chancellor Juan Sánchez Muñoz, introducing the governor, said the financial support would be significant not simply to UC Merced but the San Joaquin Valley.
"Medical education has been part of the plan for UC Merced since before we opened our doors to undergraduates in 2005," said Muñoz. "This was driven in large part by the critical lack of health care professionals in the Central Valley, a problem that has only gotten worse.
"The historical significance of this future facility to our campus and our region cannot be overstated," he said.
Assemblyman Adam Gray, who worked with the Newsom administration to secure the funding, said it took a collaborative effort bring this together.
"It is not only about investing in the building. It's about investing in our community," he said. "All of us working together made this happen."
Elected officials who also took part in today's event included State Sen. Anna Caballero and U.S. Congressman Jim Costa.
"There's never been a more precise time of the need for resources in the Valley than in a middle of a pandemic. Thank you to the state for its contribution," Caballero said.
"It's a milestone day. When good people come together, we get things done," Costa said.
The funding mechanism will see the state government back a bond sale by the University of California. Annual bond payments have been built into the long-term state budget by the Department of Finance. This funding will be above state funding for the University of California system.

Public Information Officer
Office: (209) 746-5137