For the first time in 20 years, researchers from across the country, UC Merced officials, local and state leaders and community members will take part in a conference stemming from an active study to address issues relating to the health and safety of agricultural workers in California.
The UC Merced Farmworker Health Research Conference takes place Friday, April 9, from 10 a.m. to 3:45 p.m. Due to the coronavirus pandemic, the free event will be held virtually.
The conference will feature a wide range of topics concerning farmworkers, including the impact of COVID-19, mental health disparities, heat illness prevention, the use of pesticides, effects of the Affordable Care Act and much more.
The UC Merced Community and Labor Center is partnering with the California Rural Legal Assistance (CRLA) Foundation, University of California Agriculture and Natural Resources (UC ANR) and UC Berkeley to host the event. Funding and support for the conference are being provided by the California Department of Public Health and the California Endowment.
UC Merced Chancellor Juan Sánchez Muñoz is the opening speaker. California State Senator Anna Caballero has been named the keynote speaker, and California State Assemblyman Robert Rivas will serve as the closing speaker.
Sociology Professor Edward Flores, co-director of the Community and Labor Center at UC Merced, is the event chair. Committee members include Ana Padilla, executive director of the Community and Labor Center, public health Professor Paul Brown and graduate student Nimrat Sandhu of UC Merced, Christy Getz, associate cooperative extension specialist of UC Berkeley and UC ANR, Ron Strochlic, Nutrition Policy Institute staff member with UC ANR and consultant Joel Diringer and legislative advocate Noe Paramo of CRLA Foundation.
"The UC Merced Community and Labor Center is proud to be hosting a conference with research partners from UC Berkeley, UC ANR and CRLA, to discuss the most cutting-edge and novel insights on the health and well-being of California's most disadvantaged and essential workers," Flores said.
The conference is part of a study that started in May 2020 and runs through June 2022. Researchers aim to expand on findings from the 1999 California Agricultural Health Workers Survey, as well as focus on the long-term health of farmworkers and access to health care amid changing demands of the agriculture industry.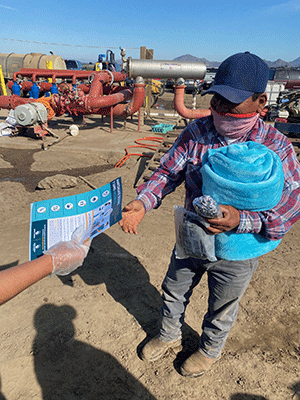 "The UC Merced Farmworker Health Study is the first major study of its kind in two decades," Brown said. "It will provide rich data on the social determinants of farmworker health, access to quality health care services, and allow us to formulate solutions that improve the health profile and access to care of California's farmworkers."
Information gathered from the research will be used to develop effective policy and health care interventions to improve the lives of agricultural workers in the Golden State and beyond.
"We are proud to have a dedicated community advisory board comprising dozens of farmworker-serving organizations," Padilla said. "UC Merced was established as a public research university, and this study will provide findings that advance understandings of key issue areas that farmworker organizations have long worked on."
All content of the research conference will be accessible to Spanish speakers. A live Spanish interpretation will be accessible to all conference attendees at the beginning of each session.
The presentations and discussions will be recorded and uploaded to the Community and Labor Center's YouTube channel, where they will be available for two months.
Anyone interested in attending the virtual conference can register online. Questions can be directed to Krystal Cortez via email at kcortez16@ucmerced.edu.