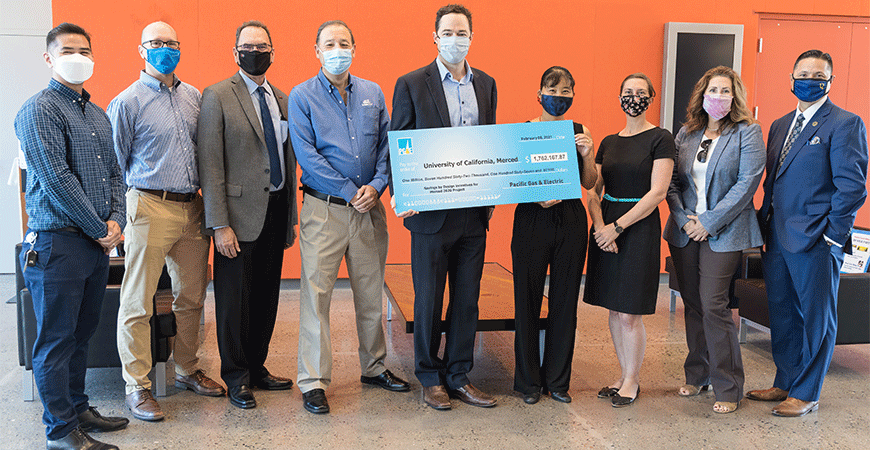 The Merced 2020 Project continues to be an energizing social infrastructure for UC Merced and has brought the campus numerous awards and honors.
In May, the university received another — a $1.7 million design incentive from PG&E, the most significant amount given by the company this year.
The funds are part of the Project 2020 Building Savings by Design (SBD), a state-funded design incentive program created by the utility company.
SBD is an incentive program that pays owners to design and build a new space that exceeds Title 24 California Building Standard Code requirements for energy conservation, green design by 10% or more.
The funds will go towards sustainability programs and projects on the campus as needed.
"As one of the only universities in the country that is carbon neutral, this incentive grant not only recognizes the efforts across all areas of the campus to reach that status, but our commitment to advancing energy efficiency as we expand the living laboratory that is our campus through research, design and implementation," said Vice Chancellor for Student Affairs Charles Nies.
The Merced 2020 Project is the largest public-private partnership social infrastructure project completed in the U.S. and will allow the campus to accommodate close to 10,000 students.
The new facilities include research space, student wellness areas, recreational spaces and student housing, among other campus community centers.
UC Merced is the only university in the country to have all of its buildings LEED certified by the U.S. Green Building Council. The campus reached carbon neutrality in 2018 and aims to further reduce its carbon footprint through a variety of strategies including generating and using renewable energy, diverting waste from area landfills and sustainable building operations.

Public Information Officer
Office: (209) 746-5137