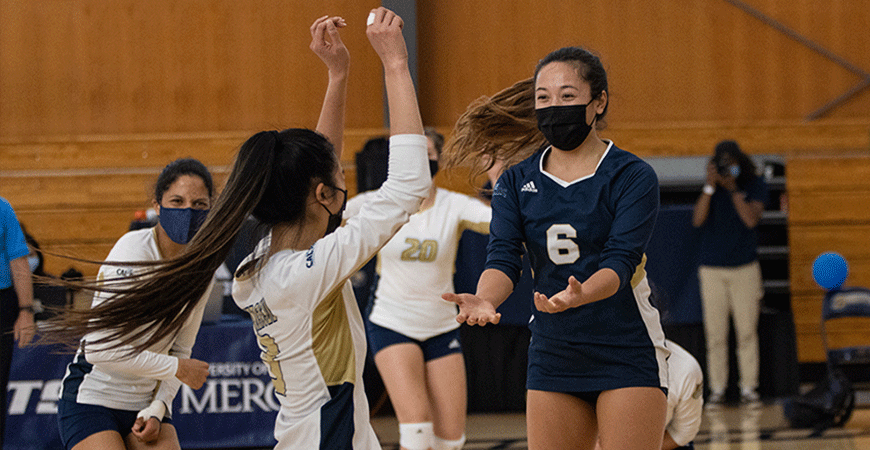 It's an incredible time to be a Bobcat student-athlete.
In a year turned inside-out by COVID-19, UC Merced's intercollegiate teams have risen above with atmospheric levels of success.
With all sports seasons shifted to spring because of the global pandemic, UC Merced squads burst out of the gate and racked up one success after another.
"I am proud of our student athletes and coaches for the way they have performed during these difficult times," Recreation and Athletics Executive Director David Dunham said. "Their success on the courts and on the fields is a testament to their hard work, resilience and dedication."
Here's a rundown:
Women's volleyball: The California Pacific Conference Tournament champions open NAIA National Tournament play April 17. Olanasaze Ojo and Olivia Harden were selected for the All-Cal Pac Second Team and Madison Mayoralgo received honored mention after the 7-6 Bobcats captured the program's first conference tournament title. Ojo is the third player in Bobcat history to earn all-conference honors as a freshman. In addition, UC Merced's Caroline Mack was named Cal Pac Assistant Coach of the Year. Mack is a UC Merced alumna who played for the Bobcats from 2011 through 2014.
Men's volleyball: The Bobcats were 12-0 before a loss Wednesday night to defending national champion Benedictine University in the Cal Pac Conference Jamboree final. The winning streak was the longest for any team in any sport in UC Merced history. The Bobcats, ranked 15th nationally, will shoot for an at-large berth in the NAIA National Championship in Des Moines, Iowa.
Women's soccer: UC Merced is 6-0 and the top seed in the Cal Pac Tournament, which opens Friday at La Sierra University in Riverside. The tournament winner earns a spot in the NAIA National Championship tournament.
Men's soccer: The Bobcat men also are undefeated, bringing a 4-0 mark into their final Cal Pac matches Thursday and Friday. UC Merced hosts the Cal Pac Tournament April 15-16. The winner earns an automatic bid to the NAIA National Championship tournament.
Cross country: The men's and women's teams have sent four runners each to the NAIA Championships on Friday in Cedar Rapids, Iowa.
All told, it's been a remarkable spring for UC Merced athletics.
"Despite the challenges resulting from the pandemic, our scholar-athletes have excelled," Vice Chancellor for Student Affairs Charles Nies said. "It is a reflection of their talent, commitment and Bobcat spirit."