While this year's ceremony looked quite different from years past due to the coronavirus pandemic, the presentation of the Alice and Clifford Spendlove Prize in Social Justice, Diplomacy and Tolerance remained an important celebration.
Alicia Garza, author, civil rights activist and co-founder of #BlackLivesMatter and the Black Lives Matter Global Network, became the 13th recipient of the prestigious award during the virtual event on Tuesday, April 20.
Garza was raised in the San Francisco Bay Area and graduated from UC San Diego with degrees in anthropology and sociology. She has spent the past few decades working to improve others' lives through various organizations including the National Domestic Workers Alliance, Supermajority and the Black Futures Lab, which she founded. The activist is a powerful voice in the media and frequently contributes opinion pieces and expert commentary on politics, race and other topics to major news outlets.
Tuesday's ceremony kicked off with remarks by Professor Nigel Hatton, with the Department of Literatures, Languages and Cultures at UC Merced, who described the award as a "moral arc in the Valley" and stated that the "celebration of justice was alive even in a virtual event."
As Garza took the virtual podium, she made reference to the verdict in the Derek Chauvin trial. Just hours earlier, a jury in Minneapolis found the former police officer guilty of murder and manslaughter in the death of George Floyd.
"At this moment, while we're experiencing incredible, incredible victories that we did not think or see possible a year ago, five years ago, a decade ago, we still have a lot of work to do," Garza said.
In her discourse, Garza said she has worked to forge a new path, leaving behind the "limited options that have been placed in front of us." This led her to declare "Black Lives Matter," a phrase that grew from a social media post to an organization with chapters around the world. Now, she's calling on people to think about what kind of builders they will be and what they're building for the future.
"I believe that Black communities deserve to be powerful in every area of our lives, and we know that Black communities are indeed powerful," she said. "It is Black communities that have shown this country what it is made of and what it can be if it, too, dares to be free.
"It is Black communities who have endured and Black communities who are innovators. We've persevered because of and despite all of the barriers that have been placed in our paths," she said. "We are creators, visionaries, leaders, builders, fighters and winners - not because it's something that is inherent within us but because we've had to be."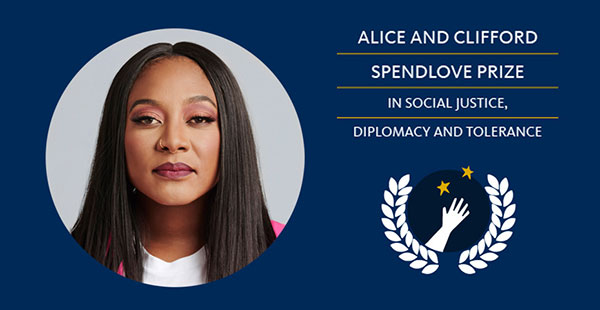 Garza took a moment to pay homage to her mother, who passed away three years ago. She said her mom taught her that the "most important lessons in organizing and in building power - at the heart of it all, it's dignity and survival."
"Freedom is our birthright," Garza said. "In my freedom dreams, we're building a new world where none of us get left behind."
As the event drew to a close, UC Merced Chancellor Juan Sánchez Muñoz called it a "privilege" and an "honor" to have the opportunity to listen to Garza's message. He went on to present this year's award, albeit virtually, to Garza, who expressed her gratitude and called it an "incredible honor."
The Spendlove Prize was established at UC Merced in 2005 and is made possible by a generous gift from Merced native Sherrie Spendlove.
"This prize is named in honor of my parents, Alice and Clifford Spendlove, but it is also an elegy to the common man and woman - largely unsung heroes; people who work hard with honesty and integrity, with good will toward all people; people who have built and are continuing to build our community and our country - this is your prize too," Spendlove said during the event.
"UC Merced is deeply appreciative of Sherrie's generosity and the example that her family and parents have given us," Muñoz stated.
The Spendlove Prize Selection Committee, which is tasked with choosing the recipient, is chaired by the dean of the School of Social Sciences, Humanities and Arts and includes a representative from the Spendlove family or a designee, an undergraduate student, a graduate student, a faculty member and representatives from the UC Merced community.
This year, the award committee was chaired by Dean Jeffrey Gilger and included Spendlove as family representative, Hatton as a member of the faculty and Lee Anderson and Charlie Bennet as members of the local community. Due to the COVID-19 pandemic, the undergraduate and graduate student positions were left vacant after the previous students departed.
Past recipients of the Spendlove Prize include former President Jimmy Carter, 1992 Nobel Peace Prize winner Rigoberta Menchú Tum, civil rights activist John Y. Tateishi, Harvard Professor Charles Ogletree, Jr., 2016 Pulitzer Prize winning poet Peter Balakian, a leading voice of Armenian Genocide recognition, among many other high-profile national and international figures.