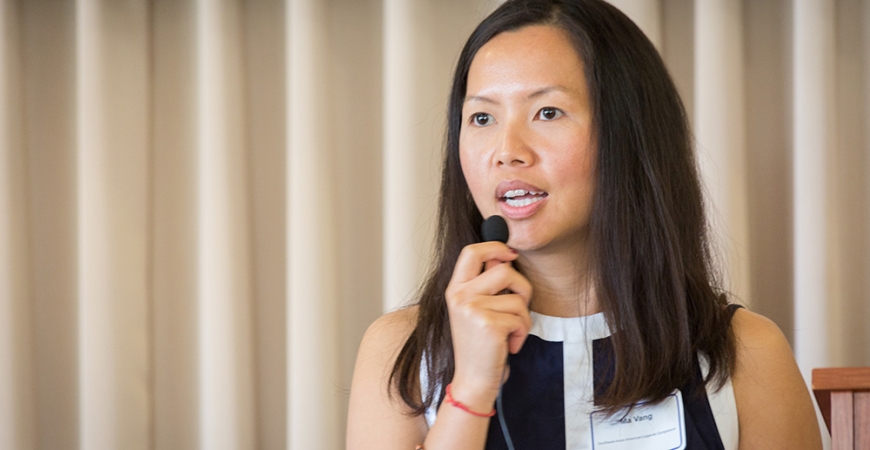 The Whiting Public Engagement Program has awarded a $50,000 fellowship to Professor Ma Vang for her efforts to integrate the experiences of refugees into education for high school students in Merced County and beyond.
"This fellowship enables storytelling and community knowledge to shape curriculum — the key features of a critical refugee studies framework and an ethnic studies education — and it elevates Merced as the place to do collaborative work toward social change," Vang said.
Vang, founding chair of UC Merced's Critical Race and Ethnic Studies program, worked with the Critical Refugee Studies Collective to organize a Refugee Teaching Symposium, which in 2017 brought together teachers, refugee students and their parents to explore how schools could incorporate refugee worldviews into student learning.
The Whiting fellowship will support this effort by launching the Refugee Teaching Institute, a series of public workshops that will assemble scholars, teachers, students and parents to collaborate on lesson plans that reflect refugees' histories and culture. The work will also incorporate the dispossession of indigenous Miwok and Yokut peoples and the relocation to the region of African Americans from the U.S. South.
"With strong support from Merced County schools, the Refugee Teaching Institute is poised to build a foundation for long-term educational partnerships that translate refugee knowledge into curriculum and expand narratives about life in the Central Valley," the Whiting Foundation said in a statement.
Merced Union High School District Assistant Superintendent Constantino Aguilar commended Vang's work to broaden course offerings.
"Working with Professor Vang will benefit our students, staff and community and will enhance our ethnic studies program," he said. "Providing an array of courses like ethnic studies is important to the Merced Union High School District."
The Whiting Public Engagement Program supports public humanities in all forms and highlights the roles scholars play in using the humanities to advance communities around the country.
Vang was one of six honorees in the 2020-21 cohort to receive a $50,000 fellowship; eight others were awarded $10,000 seed grants.