While the COVID-19 pandemic has altered many things this spring on the UC Merced campus — from classes and research to events — UC Merced is making sure the Class of 2020 has a forum to commemorate students' achievements and successes.
UC Merced will host the University of California's first-ever virtual commencement ceremony Saturday, May 16, to recognize the more than 1,500 candidates who have registered to participate.
Graduates will have to wait to experience the traditional celebration of crossing the stage, but all will be welcome at the rescheduled ceremonies. More information will be widely shared when it becomes available.
"We are proud of our graduates and especially proud of their resilience in these challenging times," said interim Chancellor Nathan Brostrom. "Many of our graduates will be the first in their families to earn college degrees, and while we look forward to getting together in person to celebrate again when it is safe to gather, our graduates and their families deserve public recognition of their accomplishments now."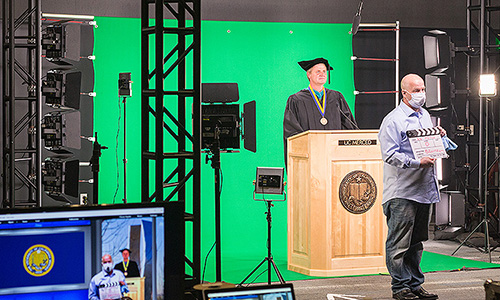 The virtual ceremony will be streamed beginning at 10 a.m. on the commencement webpage, as well as on the campus' social media channels, to allow family and friends to celebrate the accomplishments of the Class of 2020 from the safety and comfort of their homes. Graduates are encouraged to wear their caps and gowns if they purchased them, and to share photos and videos made during the virtual ceremony on social media using #UCM2020.
Commencement planning started in January and preparations for in-person ceremonies were falling into place until the shelter-in-place order went into effect in mid-March. The campus then pivoted to alternatives.
"We acknowledged that some students may not be able to return to campus for a postponed ceremony, so we wanted to provide an opportunity for them to experience commencement," Assistant Director of Protocol and Special Events Trisha Koenig said. "With so much still unknown and no idea when we could hold an in-person ceremony, it was clear we needed to start planning a virtual ceremony right away."
Koenig, colleague Chris Luna, External Relations Chief of Staff Danielle Armedilla and others had less than five weeks to plan every aspect of the ceremony, working with other campus groups to ensure the virtual event goes off flawlessly.
"The goal was to keep it an academic ceremony but add different features to mark this momentous occasion for the graduates and their families," Koenig said.
Although the virtual event was prerecorded using green-screen technology in a physically distant environment, it will still have some of the same traditional elements as an in-person commencement.
Brostrom will address the graduates "on stage" dressed in academic regalia, along with Executive Vice Chancellor and Provost Gregg Camfield. Vice Provost and Graduate Dean Marjorie Zatz will confer 73 master's degrees and 55 doctoral degrees, and school deans Mark Matsumoto, Elizabeth Dumont and Jeffrey Gilger will confer 1,416 bachelor's degrees. Once all degree requirements have been verified, diplomas will be mailed to each student as usual.
Christopher Ingle, a double major in English and Global Arts Studies, will represent the Class of 2020 as the student speaker. He recorded his remarks from his home in Winton.
While at UC Merced, Ingle worked for the Transfer, Returning and Veteran Program and was a member of the archery team. He served on the Associated Students of UC Merced Inter Club Council and participated in the Bobcat Model United Nations, an organization dedicated to furthering students' understanding of international affairs and skills in public speaking. (Read more about Ingle.)
The virtual experience, Koenig said, will include some non-traditional touches, such as incorporating photos and video messages submitted by students, staff, faculty and parents as part of the #UCM2020 Journey Project to commemorate the tremendous and diverse accomplishments of the graduates. There will also be some surprises for graduates and their guests during the livestream.
Also new this year: Closed captioning of the ceremony will be available in both English and Spanish.
The ceremony promises to be a unique experience and will give graduates one last chance to come together, albeit virtually, before the end of the academic year.
"Regardless of where we celebrate, we are filled with pride for what our graduates have worked so hard to achieve," Brostrom said. "While it won't be what they were expecting when they started their journeys at UC Merced, we hope to make it memorable."
Regardless of where we celebrate, we are filled with pride for what our graduates have worked so hard to achieve.
Senior Public Information Representative
Office: (209) 228-4203
Mobile: (209) 628-8263