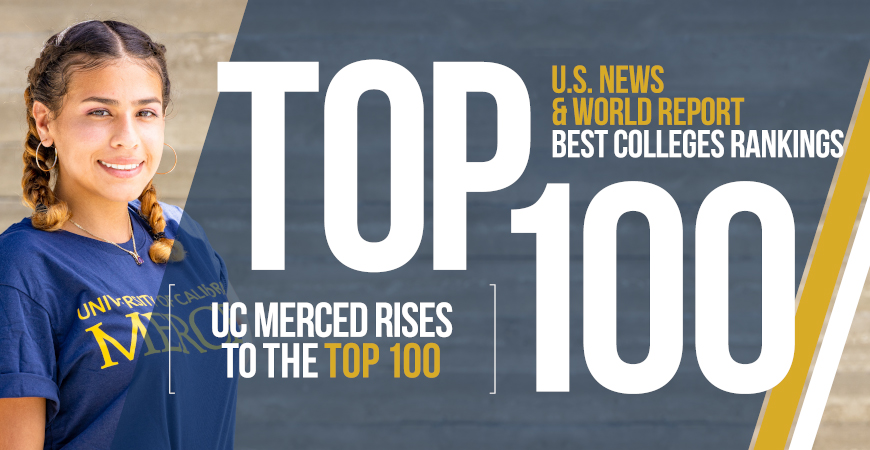 UC Merced has broken into the top 100 of U.S. News & World Report's ranking of the top national universities, placing 97th overall and 40th among public institutions.
The university, which just celebrated the 15th anniversary of its opening in 2005, is winning acclaim for its ability to transform the lives of its students.
UC Merced is ranked No. 1 among public universities in outperforming expected graduation rates and No. 5 overall for social mobility, its highest ranking ever in the category.
"UC Merced is redefining momentum. We are achieving success on several measures, as these new external rankings demonstrate," UC Merced Chancellor Juan Sánchez Muñoz said.
"While 2020 has been a difficult year in so many ways, we nevertheless have seen record enrollment and our research increasingly is recognized by the National Science Foundation and other funding agencies. We are proud to join our sister UC campuses as the best of the best of higher education in America."
We are proud to join our sister UC campuses as the best of the best of higher education in America.
In compiling its 2021 rankings, U.S. News & World Report evaluated more than 1,450 institutions on 17 measures of academic quality.
UC Merced's rank at No. 97 was a seven-place improvement from the year prior: Over the past three years, it has climbed 68 spots.
The campus also ranked No. 8 overall for economic diversity, with 65 percent of its undergrads qualifying for Pell Grants ─ the highest of any UC. It ranked No. 171 for Best Value; and tied at No. 51 for least amount of debt incurred by its graduates.
Among Ph.D.-granting schools, UC Merced ranks No. 145 for undergraduate engineering programs and its alumni giving rate of 10 percent is tied for 13th highest among public universities, and second only to UC Santa Barbara among its sister UC campuses.
UC Merced is recognized nationally for its ability to change the lives of graduates. Earlier this month, Washington Monthly ranked the campus No. 56 in the nation for promoting upward mobility, research and civic engagement. The magazine's 2020 College Guide and Rankings also ranked UC Merced No. 19 for social mobility, based on its success in graduating low-income students.
In August, Money Magazine also named UC Merced one of the top 100 universities in the country, at no. 76. Money ranked 739 schools based on quality, affordability and alumni success.