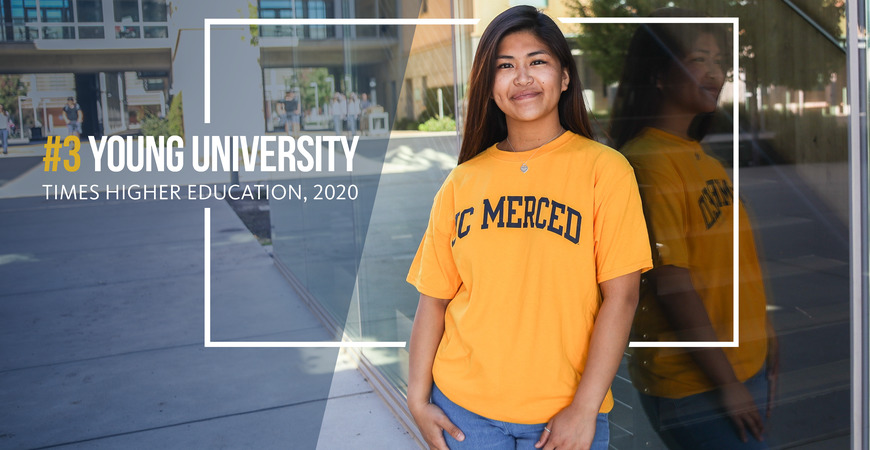 UC Merced's reputation as a world-class research university continues to grow, as the university rose to No. 3 among U.S. universities in the 2020 Times Higher Education Young University Rankings released this week.
The list ranks the best universities in the world that are 50 years old and younger. Of the 414 universities considered, UC Merced ranks No. 65 overall. The university debuted in the rankings last year, placing No. 4 among young U.S. universities. The ranking weighs teaching, research, citations, international outlook and industry income of qualifying universities.
"The heights that UC Merced has reached in such a short time are truly remarkable," Executive Vice Chancellor and Provost Gregg Camfield said. "To build a brand-new research university in the middle of the financial struggles we have faced, and to already be recognized as an up-and-coming, top-flight research institution, is nothing short of a miracle. We are proud of this recognition, and even more so, we are excited about the future of this already great university." 
Teaching, research and citations make up 90 percent of the criteria for the Young University Rankings. The teaching category focuses on the learning environment, including a reputation survey, staff-to-student ratio and doctorate-to-bachelor's ratio.
Research considers the university's reputation for research excellence among its peers, as well as the income and productivity of the research departments. Citations indicate the university's role in spreading new knowledge and ideas through published works. UC Merced is the youngest university to ever earn Carnegie R2 research classification, which indicates high research activity, and is well on its way to eventual R1 classification.
Other criteria include international outlook, which deciphers the ability of the university to attract undergraduates, postgraduates and faculty from all over the world, and industry income, which weighs the university's ability to help industry with innovations, inventions and consultancy.