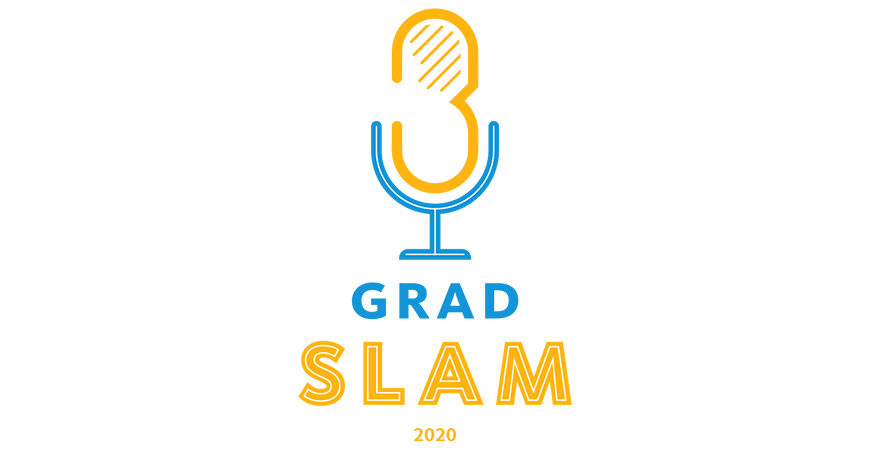 Although COVID-19 has changed everyone's plans this spring, Graduate Division staff members rallied to make sure the campus's annual Grad Slam competition — showcasing graduate student research — continued as planned.
This year's qualifying round was different than previous years. Each of the competition's 21 participants submitted a three-minute video pitch along with a three-slide presentation explaining their research to a general audience. Professors Daniel Beller, Abel Chuang, Hanna Gunn, Catherine Keske, Shilpa Khatri and Denise Payan judged the qualifying round remotely, providing each challenger a score and feedback.
The campus's 10 Grad Slam finalists are:
Amber Arroyo, Psychological Sciences, "Are Smartphone Apps Helpful or Harmful for Sleep?"
Shayna Bennett, Applied Mathematics, "A New Approach to Modeling Invasive Species"
Phoebe Coy, Applied Mathematics, "Waving Hello to Better Approximations"
Craig Ennis, Quantitative and Systems Biology, "Biofilms"
Melinda Gonzales, Environmental Sciences, "The Stinking Cost of Cheese and the Biochar Soilution"
Deanna Halliday, Psychological Sciences, "You Know Better"
Boe Mendewala, Physics, "The Solar Solution: Upgrading Energy Technology"
Zachary Petrek, Chemistry and Chemical Biology, "Do It Yourself: Diagnosing Diseases Without a Doctor"
Heather Stever, Quantitative and Systems Biology, "Microbiome Shifts & Insect Evolution"
Aaron Wheeler, Physics, "Accelerating Adoption of Solar Electric Automobiles"
"Congratulations to the finalists and all the Grad Slam participants! We are proud of all of you," said Associate Graduate Dean and Professor Chris Kello, who leads the campus competition. "Communicating your research in three minutes isn't an easy task, and the COVID-19 crisis added a lot of uncertainty and stress. Both myself and the judges were especially impressed with the quality of the video presentations this year, bravo!
Each finalist receives a $250 award. The first-place winner of the campus's Grad Slam final round will receive $5,000. The second and third-place winners will receive $1,000 each. The systemwide Grad Slam event scheduled for May 8 is canceled due to the ongoing and escalating safety concerns and directives regarding COVID-19.
Robert Bernstein, M.D., and Jane Binger, Ed.D., are great allies for graduate education at UC Merced and support Grad Slam every year because they know graduate students and their work are integral to campus's mission.
Binger will work remotely with the finalists to help fine tune their presentations for the upcoming virtual Grad Slam final round that will determine a campus champion and runners-up. More details about the final round will be announced shortly.
Senior Public Information Representative
Office: (209) 228-4203
Mobile: (209) 628-8263