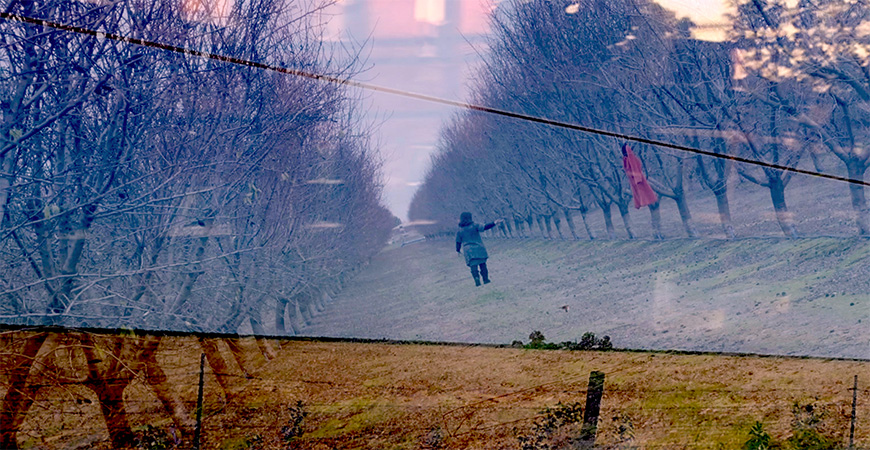 Global Arts Studies Professor Yehuda Sharim has released his latest project, a short film titled "Red Line Lullaby" or "Cancion de Cuna Colorada," which examines the varied struggles of Latinx women in America today.
The 14-minute film chronicles the lives of working women as they seek more dignified lives in the face of neglect, loss and daily acts of resistance. The film delves into the heart of American landscapes — from Chicago to East Los Angeles and through the Central Valley of California — and conjures the feeling of home while acknowledging a country in agony. "Red Line Lullaby" offers an American testimony through the lives of Latinx women.
The film offers viewers a look into daily moments: Ana grieves the death of her parents and their funeral, which she could not attend; Karla gets married to someone she doesn't love in exchange for "legal" papers that are said to grant her safety; Monica awaits the results of her surgery without health insurance; Andrea wonders about life without her mother, who stayed behind with her abusive father.
Seemingly disparate moments in the lives of Latinx women are threaded together through shared challenges and aspirations against the background of a time fraught with division in America.
"In 2020, during the horrific losses of life due to the COVID pandemic; during the racial justice movement against police brutality and for Black lives that the horrific death of George Floyd, among numerous other Black victims, triggered nationwide… 'Red Line Lullaby' offers its audience a lyrical and poetic moment and space for engaging emotionally with the multiple and nefarious uncertainties of our times," wrote Professor Francis Aparicio of Northwestern University in a review for Kalfou, a scholarly journal focused on social movements, social institutions and social relations.
Viewers can watch the trailer for "Red Line Lullaby" here.
Fellow UC Merced global arts Professor Lorena Alvarado wrote a poem to accompany the short film and Sharim worked with Creative Director J. Alex Matthews on the film. He and Matthews also collaborated on his 2019 documentary , "Songs That Never End," which was nominated for Best International Documentary Film in 2020 at the International Documentary Film Festival in Vienna.
Sharim's films have screened at various film festivals and universities worldwide, providing intimate studies of immigration and displacement, shedding light on the changing constructions of home and belonging.