Think about biting into a fresh apple. What do you perceive? Is it juicy? Sweet? Tart? Crisp? Now remember how unpleasant it is to bite into mealy apple flesh.
Vineland Research and Innovation Centre, a horticulture science and technology enterprise in Canada, is trying to prevent that disappointment. Research by UC Merced Department of Mechanical Engineering Professor Ashlie Martini is going to help Vineland bring better apples to market, saving time and money in the process.
Martini focuses on tribology — studying the interaction of sliding surfaces. Usually her work deals with mechanical components such as gears and bearings. But Vineland enlisted her help in a novel study, testing apple slices to see if tribology instruments can detect mealy fruit.
Turns out, the machines' results correlate with what food tasters are experiencing when they bite into those disagreeable apples.
The tests took place last year, as Vineland sent crates of specially chosen apples to Martini and her graduate student Nicholas Walters, as well as to a professor at the University of Idaho where Vineland sent their own graduate student from the University of Guelph, Min Sung Kim, to replicate the tribology tests on another instrument. On the same day as the tribology tests, Vineland's sensory panel — a group of highly trained tasters — ate the same varieties of apples, from the same harvests, to evaluate their flavor and texture.
"While some of the differences between apple varieties are apparent when you're tasting them, I was skeptical that we would see significant differences in the data between different apple varieties," Walters said. "It was very surprising and exciting to see such clear differences in the data between the different kinds of apples we tested."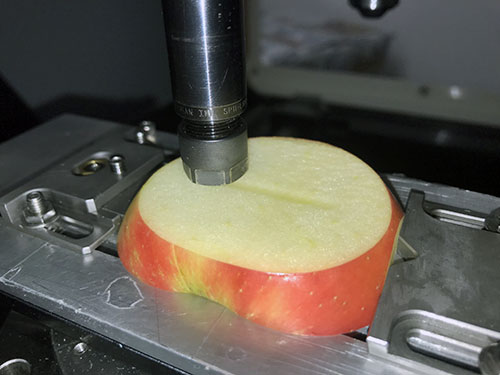 When you chomp down onto an apple, sliding surfaces interact — everything inside your mouth and the fruit — causing friction. How much friction you feel corresponds with how mealy you perceive the apple to be.
"We were trying to find a property of the apples themselves that explains the perception of mealiness, and it appears friction is that property," Martini said. "More friction in the tribometer means less mealiness in the mouth."
The project included Martini and Walters, who is now a mechanical engineer at Lawrence Livermore National Laboratory; Helen Joyner of Perfect Day Foods (previously with the University of Idaho); Lisa Duizer of the University of Guelph; and Vineland. Support came from the Ontario Apple Growers and the Ontario Agri-Food Innovation Alliance.
Apple-breeding requires hundreds of trees for cross-pollination, said Alexandra Grygorczyk, Ph.D., a research scientist in the Consumer Insights department at Vineland. That's why the research center undertakes a long and rigorous process to guide its apple cross-pollination and screen apples for commercial potential. First, Vineland staff members try about 250 apples in structured blind tasting sessions each year, looking for the ones with the most desirable sensory attributes.
"They aren't giving their opinions, because not everyone will agree about which apple they like best. Opinions are for consumers to give. But our previous work has shown that apples have to be crisp and juicy and have a minimum level of sweetness. Our tasters have to put aside their own apple taste preferences to screen apples for these basic traits," Grygorczyk said. "If the texture isn't right, the taste doesn't matter."
The top 10 to 20 finalist apple varieties go to Vineland's sensory panel members, who taste and evaluate the apples to create a detailed, quantitative sensory profile and also evaluate more complex attributes such as aromas.
Using humans for tastings is time and resource intensive, not to mention hard on people's teeth if they have to sample 250 apples, Vineland said. If friction correlates to tasters' perceptions of mealiness, Vineland can use it and skip the staff round of testing.
"Apple tribology research, once implemented, would save our breeding program about $100,000 by the time we launch our first apple into the market," Grygorczyk said. "That is mostly labor savings and does not include the added benefits of freeing up people's time to accomplish other tasks and publish research that seeds future research opportunities, for example to duplicate this testing in other crops."
Martini said tribology can easily be adapted for food sciences because many foods' popularity is strongly affected by the perception of texture. Tribology is also used to quantify the attributes of non-food products, such as makeup, tissues and many others.
"Tribology has relevance far beyond the traditional applications of mechanical engineering," Martini said. "Tribology really is everywhere."

Senior Writer and Public Information Representative
Office: (209) 228-4406
Mobile: (209) 201-6255