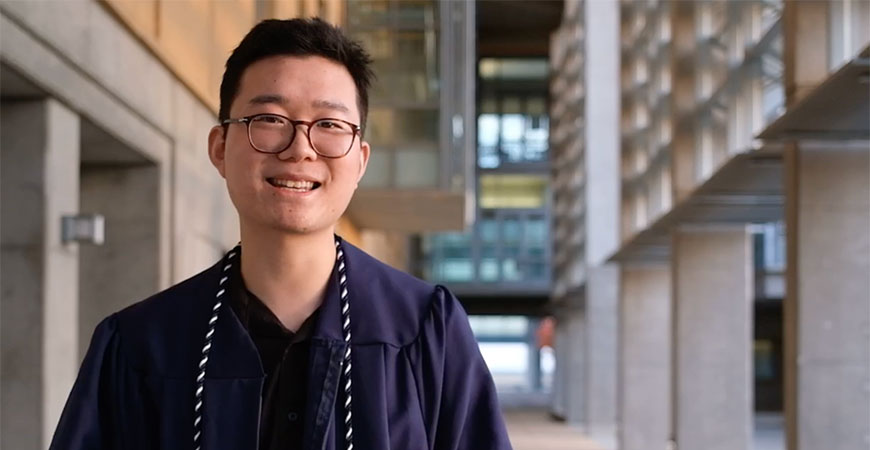 For Xiaolong "Harry" Chen, UC Merced is more than a university. "It is a friend and a companion," he wrote in his application to be student speaker at Fall Commencement. Together, they experienced pre-dawn hours at Lantern Café, early evening discourses with friends, and 11 p.m. sprints to complete homework.
On Dec. 19, Chen will address fellow graduates and other virtual viewers about his four years at UC Merced, where he earned bachelor's degrees in Applied Mathematics and Physics. Chen, 23, who hails from Shanghai, China, spent those years embracing opportunities and paying it forward as a mentor and tutor to other students.
Early in his university career, when Chen was going through a period of frustration and self-doubt about his chosen disciplines, he joined the university's Society of Physics Students. His activity in SPS reignited his passion for the field and steadied his sense of direction, and he was eventually elected as the society's president.
Through SPS, he attended a meeting of the prestigious American Physical Society in Los Angeles. He dove into STEM outreach, presenting physics experiments and talks at secondary schools. He also helps his fellow Bobcats through the Peer Assisted Learning Support program, providing tutoring and mentoring for the past three years. He has tutored through the university's Math Center for two years.
"In Fall 2018, three students told me that due to my support, they were able to raise their grades to an A on their midterms," Chen wrote.
He interned earlier this year at Lawrence Livermore National Laboratory and has served as an undergraduate researcher for Professors Suzanne Sindi and Kevin Mitchell. Through it all, Chen has maintained a 3.9 grade-point average and been named several times to the Dean's and Chancellor's honor lists. He has applied to doctoral programs in Physics.