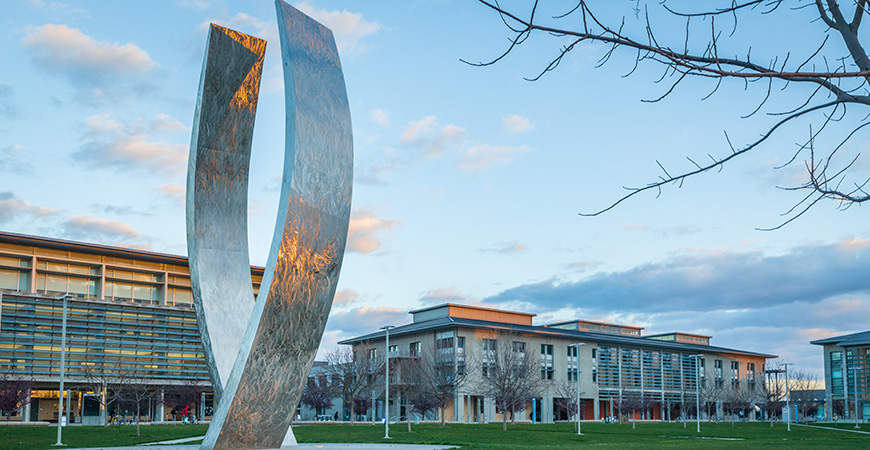 UC Merced students come from all over the state, some from very long distances. But for dozens of students just five miles away from campus, getting here took its own kind of journey.
Becoming Gateway Scholars allowed 67 Merced High School students to reach a destination they thought was closed to them, and because of it, a path to higher education has opened to them.
The Gateway Scholarship Program is one of many ways the university delivers on the campus's promise to promote social mobility in the San Joaquin Valley and the state, a promise that was made before the university opened its doors in 2005.
The program began as a scholarship endowment from an anonymous donor to help more Merced-area students enroll at UC Merced. A subsequent substantial donation from the same donor helped establish the present-day program, which unites qualifying students with a coordinator who helps them prepare for higher education and navigate the application and financial aid processes. The students continue to receive support services during their time at UC Merced through the Calvin E. Bright Success Center.
Students can become Gateway Scholars as early as their freshman year at Merced High, and take part in a college-readiness academy at UC Merced in the summer. The two-week academy, which began in 2016, helps incoming sophomores and juniors learn how they can become more competitive in the college application process. Merced High School's 2019 graduating class featured the first group of students to go through the Gateway Scholarship Program for all four years.
"For these students, having that personal relationship and knowing — no matter what — that there is someone they know at UC Merced brings them comfort, as does the fact that they are familiar with campus after spending several summers here," said Alex Delgadillo, associate director of the Calvin E. Bright Success Center, who works with the students on campus.
UC Merced's Center for Educational Partnerships manages the Gateway Scholarship Program, which will expand to include Golden Valley High School in the fall — a testament to the success of the program.
"What will be foreign to these students is how college will function, but the summer academies help introduce them to that, so they get a glimpse of what it will be like," Delgadillo said.
Click on each student's picture below to learn about their journey to UC Merced through the Gateway Scholarship Program.
Promoting Social Mobility the Key to Partnerships with KIPP and College Track
With more than 73 percent of the student population being first-generation, and many students coming from underrepresented and underserved communities, UC Merced provides opportunities for students to receive an education that will change their personal and professional future and, in turn, their family's future as well.
Thanks to the work of Delgadillo, nonprofit organizations that share the same vision, have begun to guide students to UC Merced. That includes College Track and the Knowledge is Power Program (KIPP), a nationwide network of free open-enrollment college-preparatory schools in low income communities.
College Track is designed around a 10-year promise that supports students from the beginning of high school through college graduation. Students attend College Track centers and receive guidance in preparing for the academic, financial, social and emotional rigors of higher education. UC Merced has the second largest cohort of College Track students in the UC system.
Rising fourth-year student Andrea Molina went through College Track's East Palo Alto site and credits the program with not only helping her get into UC Merced, but — along with continued support through the Bright Success Center — also making the Dean's Honor List.
"College Track still supports me through my college career by having bi-weekly check-ins with me, securing internships of my interest, minimizing my student loan debt and empowering me to pursue higher education," the sociology major said.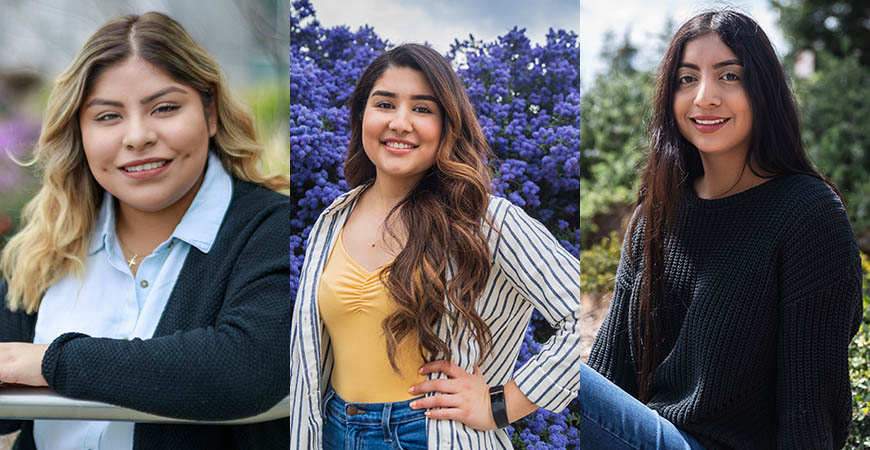 KIPP has more than 220 public charter schools across the country, including several in the Bay Area, Los Angeles, and San Diego. The tuition-free schools work to instill change in educationally underserved communities by highlighting the knowledge, skills, character and habits needed to succeed in college.
Deanna Morfin-Chavez — who completed her second year at UC Merced in May — was a KIPP student in the Bay Area from elementary school through high school. She said the rigorous curriculum and long school hours not only prepared her academically for college, but taught her to handle a heavy workload. She said KIPP's strong internship pool meshes well with what UC Merced offers, giving her a chance to explore options in the public health field.
"The skills I developed at KIPP led to my ability to receive straight A's in college," Morfin-Chavez said. "KIPP allowed me to gain various life-long skills that will continue to guide me in college and life."
San Diego native Leslie Barrera Morales attended a KIPP school from fifth through eighth grade and continued to receive guidance throughout high school. As she works toward a degree in management and business economics, she believes she would not be able to succeed at UC Merced if not for the help she received from KIPP.
"They were always pushing me, and I feel like that push is what helped me in being here," the rising third-year student said. "I owe so much to them because I felt like they really cared for us. They were like our second parents telling us to go to college and helping to lead us to a better life."