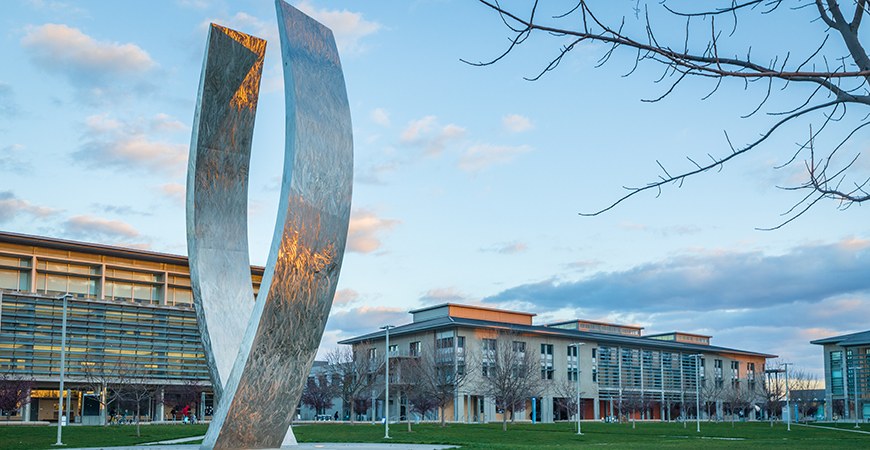 Viet Ta ('10) and Janna Rodriguez ('12) are the newest alumni establishing an endowed scholarship at this year's annual Alumni Signature Ceremony on Saturday, April 13. Ta and Rodriguez join nine fellow alumni who have established endowed scholarships through pledges of $10,000.
The event will take place during Bobcat Day from 3:30 – 4:30 p.m. in the Leo and Dottie Kolligian Library. Ta and Rodriguez will sign a gift agreement and share their stories of giving with attendees.
Ta was a member of UC Merced's inaugural class and graduated with a degree in economics. He went on to receive his MBA from Loyola Marymount University and works as a master planner for Northrop Grumman, an aerospace and defense company.
Ta is establishing the Ta Family Scholarship. He said he was inspired to establish a fund after attending last year's event and felt it would enable him to leave a greater legacy at the university.
"The message that First Lady Michelle Obama imparted to us at our graduation ceremony was that we should never forget the community that raised us into who we are today, and give back when we can, as often as we can," Ta said. "With the Ta Family Scholarship, I will be able to make sure that I can make an impact and give back every year."
After graduation, Ta worked for Merced Yosemite Realty, owned by Brandon Ruscoe ('09), who has also pledged for an endowed scholarship fund, and Jared Ruscoe ('16).
Rodriguez received her bachelor's degree in mechanical engineering with honors. She earned a master's degree and Ph.D. in mechanical engineering from Stanford University and now works at Intel.
Rodriguez serves on the UC Merced Alumni Board and is establishing the scholarship under the name of her local business, J&R Tacos, which she co-founded and currently co-owns with her longtime friend, Oscar Torres.
"While talking with Oscar, we came to the conclusion that the best way to make a difference in Merced is to invest in education," Rodriguez said. "UC Merced was a doorway for many opportunities, from giving me access to great professors to going to graduate school. If not for that, I don't even know what I'd be doing."
Rodriguez and Torres are always looking for ways to give back to the community, she said.
"We hope this financial support will enable new generations to go on to do new things in technology, innovation, art, but also give the opportunity to someone who might not have the means."
In 2017, Rodriguez was recognized as one of the Remarkable Women of the University of California .
Ta and Rodriguez join the following alumni who have made pledges to endow scholarship funds for UC Merced:
Chris Abrescy ('09), Abrescy Family Scholarship
Danielle Armedilla ('12), Making a Difference Endowed Scholarship
Christopher Bernal ('17), Christopher Michael Bernal Scholarship Fund
Monique de Villa ('16), Marinelo Sadsad and Amercia de Villa Endowed Scholarship
UC Merced Alumni Association President Keith Ellis ('12), Ellis Family Endowed Scholarship
JaeJae Julian ('10), Ganio-Julian Family Endowed Scholarship
Daniel Lobato ('13), Lobato Endowed Scholarship Fund
Brandon Ruscoe ('09), Ruscoe Family Scholarship dba Merced Yosemite Realty
Marko Zivanovic ('14), Zivanovic Family Endowed Scholarship Fund
The event is open to the public, and refreshments will be served. Guests are asked to RSVP online.