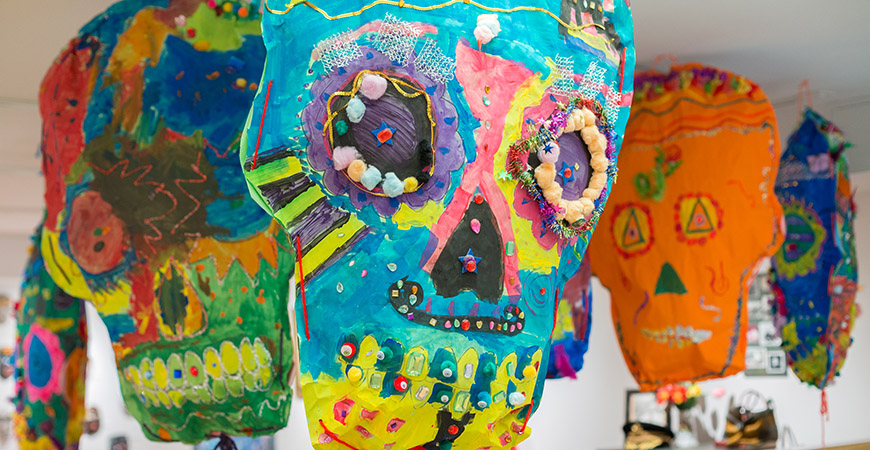 Death is a part of life, a loss surrounded typically by mourning and grief. But what if the passing of a loved one were also a transition to be celebrated?
That is the sentiment behind Dia de los Muertos, or "Day of the Dead," in Mexican culture. The Nov. 2 holiday traditionally has been a time to visit cemeteries to clean the tombs of loved ones, lay fresh flowers, and picnic with the deceased by bringing their favorite foods as an offering. Today, it is also celebrated with parades, face painting, ornately dressed skeletons or calaveras, and altars adorned with items reminiscent of the departed. Mexican culture is robust with tradition and nothing exemplifies that better than Dia de los Muertos.
Each year, UC Merced teams up with the Merced Multicultural Arts Center (MAC) to create a Dia de los Muertos celebration for the community. This year marks the 20th anniversary of the MAC's annual Dia de los Muertos art installation and UC Merced students are helping bring this year's event to fruition.
"In terms of the history, it truly is a fusion of two cultures: the Mesoamerican and the Spanish," said Charles Perez, the event curator and design director who has served on the planning committee for five years.
Global Arts Studies Lecturer Richard Gomez integrates the holiday into his "Art for Social Change" course curriculum and students help with different parts of the event, such as installing an altar or painting faces at the actual celebration.
"Dia de los Muertos is a culmination of tradition, culture and artistry in Hispanic culture," Gomez said. "This event allows my students to use their creativity and merge with the community while also upholding a longstanding cultural tradition and educating people around us."
To make the university-community partnership possible, Gomez begins meeting with other committee leaders for the event as early as January. One key figure on the committee is Martha Acevedo, who has served on the board of the MAC for 25 years and fought to instill the importance of this cultural holiday into the lives of students and community members.
"Death is not something to be sad about all the time. This holiday is an opportunity once a year to be with our relatives. It's a chance to celebrate life," Acevedo said. "Death is not something horrible in Mexico – it's sad, but it is necessary. It is accepted. We know we are going to die, so we enjoy life and pay tribute to those who have passed."
Acevedo's daughter, Eve Delfín, was one of the original three students to graduate from UC Merced in 2006. Like her mother, in her time at UC Merced, Delfín was a steward of her Mexican heritage. She founded the university's first Folklorico dance troupe, which practices traditional Mexican dancing complete with nail-heeled shoes and ruffled skirts.
Delfín was also instrumental in starting the annual Dia de los Muertos tradition at the MAC. She worked with event founders Ruben Sanchez, Joan Sortini and artist Oscar Torres to bring the tradition to the wider Merced community. This year, Acevedo will honor the original founders of the event by awarding them a certificate with the support of local legislators.
This year's event will feature Mexican traditions, with Gomez's students painting faces in the style of the holiday's sugar skulls, or calaveras. Hallways will be draped with colorful Mexican paper garlands, traditional food will be served and La Catrina will be present – perhaps the most recognizable figure of Dia de los Muertos.
La Catrina , a stylishly dressed giant skeleton, will "greet" visitors at the entrance to the MAC. Standing 19 feet tall with her plumed hat, La Catrina is considered the "grand dame of death."
A traditional aspect of Dia de los Muertos are the altars, created to honor loved ones who have passed. For Gomez's students, rather than honoring a single loved one, the students are collectively creating an altar to honor something of importance to them. Because the class is focused on art for social change, Gomez encouraged his students to be provocative with their message. This year, their altar will honor the victims of mass shootings that have plagued the country.
Acevedo hopes attendees will move through the MAC exhibition, which covers two floors, and see that loved ones, here and gone, can still influence our lives in a positive way.
"The goal of this event is to impart the culture and knowledge of our ancestors," Acevedo said. "And to talk about death. Death is like life. It happens and knowing and accepting that means you can really savor the time you have with your loved ones while honoring others who have been close to us."
The 20th annual Dia de los Muertos holiday celebrations will begin at 5 p.m. on Nov. 2 at the Multicultural Arts Center located at 645 W. Main Street. It is free and open to the community.