In what world are Shakespeare and hip-hop related? Ask Devon Glover.
Glover is The Sonnet Man, a Shakespeare-loving rapper who sets The Bard's famous sonnets to hip-hop instrumentals. Using iambic pentameter to his advantage, Glover turns 16th century English writings into 21st century educational material for students.
The Brooklyn native, who is performing in the annual UC Merced presentation of Shakespeare in Yosemite later this month, has performed all over the world. This week he brought his rap game to local students, hosting six school assemblies in Merced County. Glover spoke to over 1,000 students of all ages, ranging from third through 12th grade, at schools of all sizes, such as Washington Elementary School in Winton, a kindergarten through eighth-grade school of fewer than 200 students.
"Something like this is really rare for us," said Superintendent Principal Richard Lopez, who jumped on the opportunity to bring The Sonnet Man to his rural community.
The assemblies and Shakespeare in Yosemite are sponsored by Aramark, Merced Rotary and Merced Sunrise Rotary. For some, the assemblies are a first-time introduction to Shakespeare, although Glover said, more people are probably aware of Shakespeare's works than they realize.
"If you know the story of 'The Lion King,' then you know the story of Hamlet," Glover told students in Winton. "Did I just blow your mind? Good."
Glover explains that Shakespeare's words — even colloquialisms we use today, such as 'swagger' — were actually invented by the Bard himself.
"Shakespeare likes to bend words and play with language," said Glover. "He's got a love of language."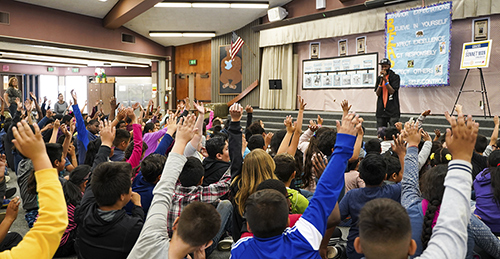 Glover gears his lessons toward kids based on their age. For the younger set, he focuses on literary devices employed by Shakespeare, such as metaphors and similes. He gets more in depth with the older kids, helping them read between the lines with the goals of letting kids connect these Renaissance writings to their present-day lives.
"Drake reminds me of Shakespeare because he writes a lot of love songs," Glover told students. "Tupac, too. He wears his heart on his sleeve — that's a saying created by Shakespeare."
Shakespeare covers a range of genres in his writings, from tragedy to comedy, but his chief subject for sonnets is love. That is the topic of Sonnet 130, one of Glover's favorite to teach.
"He's saying all of the flaws his love had and he still loves her. That's a great lesson. Love is not just what's on the outside, love is what's on the inside," said Glover. "I use that one for the older kids."
Glover didn't always love Shakespeare though. He failed a class on "King Lear" in high school and consciously avoided Shakespeare for the rest of his education. Instead, he pursued a degree in mathematics and eventually became a teacher.
However, Glover's relationship with the Bard was far from over.
He got roped into helping students in his hometown of Brooklyn who were on the verge of failing out of school. The cause? Their coursework in Shakespeare. Glover knew he needed a clever way to inspire them to care enough to pass the class. He turned to his lifelong passion for hip-hop.
"I tried to find ways to connect with students in different way. The ways [Shakespeare] plays with language, I saw a lot of connections to hip-hop," Glover said. "When I started reading out loud, it sounded like it had a lot of rhyme to it. When I read it, I read it to a beat and they gained more interest in it."
Glover found his niche, now using his hop-hop-Shakespeare approach to introduce kids from all backgrounds to the classic writer. Glover also become a writer for Flocabularly, a company that helps students learn school lessons to music.
After overcoming his own misgivings about Shakespeare, Glover said he is determined to prove that Shakespeare can be enjoyed by everyone, no matter your first impression.
Viewers can see The Sonnet Man perform for free at Shakespeare in Yosemite's production of "As You Like It" several times over the weekend of April 26-28 in Yosemite National Park. For those unable to attend a production in Yosemite, the cast is performing on Wednesday, April 24, at UC Merced.
Senior Public Information Officer
Office:(209)585-6341