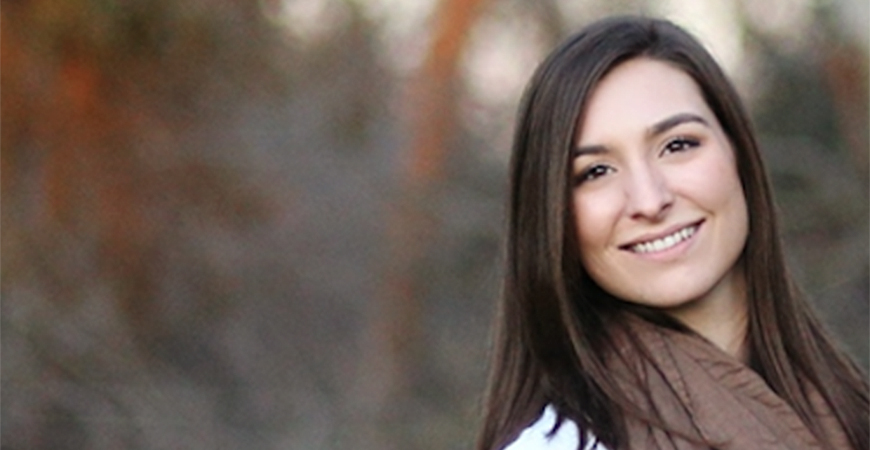 For Merced native Tessa Provins, the opportunity to attend UC Merced for her graduate education was a chance to come home again — but it wasn't simply the familiar location that drew her to the campus.
Provins earned a bachelor's degree in economics from Stanford University in 2013 before pursuing her graduate education at UC Merced. She completed a master's degree in 2016 and a Ph.D. in political science in 2018.
She found the UC Merced political science faculty completely supportive of helping her reach her goal — to become a faculty member at a research institution. Professor Nathan Monroe, the Tony Coelho Chair in Public Policy, mentored Provins and played a key role in her decision to attend UC Merced and her success once she arrived.
"I spent a great deal of time studying policy development and implementation while at Stanford, but I was always fascinated by the institutions that actually made policy," she said. "Dr. Monroe was an expert in Congressional politics, with expertise in how the institutional structure of Congress (norms and formal rules) allowed for parties to control the policy making process."
Monroe said his mentorship of Provins ultimately became more like a partnership.
"Tessa was willing to struggle to understand and apply difficult concepts, which is the mark of a very successful Ph.D. student. Once she began to get it, she really took off," he said. "By the end of her five years, she was operating like a junior colleague. We coauthored papers together as equal partners, she was a thoughtful, active participant when invited speakers would present in the department and she was mentoring the younger graduate students."
I expect her to become a star in her area of study, changing the way we think about gender in the context of legislative politics at all levels of government.
A huge benefit during her time at UC Merced was the chance to go beyond research and work as a teaching assistant during seven of her 10 semesters, as well as instructing her own course in 2017. These opportunities to get hands-on experience helped Provins learn how to effectively communicate subject matter in a classroom setting, become a mentor to students, and prepare for taking on a tenure-track position where she must balance research and teaching responsibilities.
Now an assistant professor in the department of political science at the University of Pittsburgh, Provins is doing exactly what she set out to do when she started her journey at UC Merced in 2013.
Through years of study, her fascination with legislative intuitions has continued to grow. As a member of the Choctaw Nation of Oklahoma, she is applying this knowledge to help gain a better understanding of how tribal politics impact the Native American population as well as the relationship between Native Americans and U.S. governmental institutions.
She is in the process of collecting a unique dataset on all state and federally recognized tribes — including their unique institutional structures, tribal outreach, and laws governing tribal members — and she has already started working on several projects using the information.
"I am looking at the impact federal recognition and benefits received by federally recognized tribes has on economic development on reservations," Provins said. She is also exploring the impact of tribal relationships with the state and federal government on tribe members' trust in government.
Her time on campus not only informed but inspired her passion to always keep growing in her field.
"I expect her to become a star in her area of study, changing the way we think about gender in the context of legislative politics at all levels of government," Monroe said. "She has many more great things ahead."
Senior Public Information Representative
Office: (209) 228-4203
Mobile: (209) 628-8263