When Alyssa Young returned to Long Beach after earning her bachelor's degree in psychology from UC Merced in 2017, she didn't imagine she would be back in Merced just one year later.
But when she saw a post on the UC Merced Facebook page about the new Master of Management (MM) degree offered by the Ernest & Julio Gallo Management Program, her curiosity was piqued. Young was working at a nonprofit but had concerns about career development opportunities, so she began to investigate graduate programs to give her a leg up. The one-year professional MM degree offered just that.
"What drew me in was the emphasis on the people aspect of management and UC Merced's modern take on technology and practical skill sets you can actually apply to the world you're in," Young said.
The 12-month MM is offered by faculty in the Management of Innovation, Sustainability and Technology (MIST) graduate group. This program, considered a complement to an undergraduate degree, targets new grads such as Young, who have minimal work experience and are seeking to enhance their business acumen and leadership skills.
The MM curriculum applies interdisciplinary perspectives to complex problems that organizations face while building students' professional confidence and competence through oral presentations, reflective writing, and team work. It offers what MM program Chair and Professor Anita Bhappu calls "finishing school" for students with undergraduate degrees in any major.
"Our whole focus is on managing organizations, social ventures, nonprofits and the like in a way that maximizes value to people, planet and profit," Bhappu said. "It's all about the triple bottom line."
This "not just for profit" approach, common among younger entrepreneurs motivated by social change, is a testament to UC Merced's innovative values.
"The MM program exemplifies the sort of innovation that UC Merced is known for: interdisciplinary education that incorporates technical, social and environmental dimensions in solving real-world problems," said Professor Paul Maglio, director of the Gallo Management Program, which includes MIST and the MM.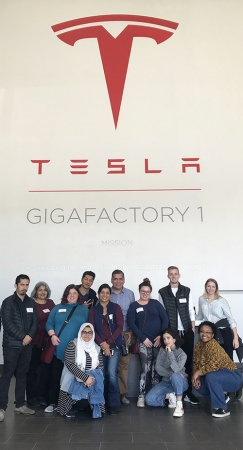 The first cohort, a tight-knit group of 10 students, experienced and applied their learning through domestic and international travel. They compared the wine industry in the central valleys of California and Chile, as well as the operations of companies such as Tesla and the outdoor brand Patagonia. They even delved into issues of policy, law and natural resources when studying public transportation in the Sacramento and Santiago metropolitan regions.
While the MM program offers students competence in business skills, there is also an emphasis on empowering the leaders of tomorrow, such as Christian Aguayo.
Aguayo graduated from Cal Poly San Luis Obispo in 2017 with a degree in engineering and an emphasis in mechanical design. Aguayo works as a senior project engineer for Webcor, the contractor charged with building the Merced 2020 Project. He continued working with Webcor while a full-time MM student. Although it was challenging to manage both work and school, Aguayo appreciated the opportunity to blend his technical engineering education with the business management experience the MM degree offered him.
"A lot of the concepts and fundamentals from class I see in my job today," Aguayo said, noting his ability to take on more of a leadership role at work since completing his degree. "The program teaches you how to communicate with people from different backgrounds culturally and also different levels of management."
The MM culminates in a summer capstone course that requires students to reflect on how they are applying program learnings in an internship or job opportunity, not just as managers but as leaders of innovation, sustainability and technology.
"Our MM program is the first of its kind in the University of California system," Maglio said. "We think it is a model for efficient, effective and practical education, empowering today's employees and tomorrow's leaders to succeed in whatever fields they choose."