At a time of dramatic political division in our society, the role of universities — as places where people can connect with others and explore ideas — is more important than ever, according to Maria Echaveste, the featured guest for a conversation with interim Chancellor Nathan Brostrom.
Brostrom welcomed the former senior White House official before a capacity crowd of campus and community members at the UC Merced Arts & Computational Sciences Building on Nov. 5.
During her conversation on "The Future of American Democracy," Echaveste praised the university for creating opportunities for economic mobility, and for allowing people to break out of their societal bubbles.
"Unless we are encouraged and inspired to be better, we default to tribalism," Echaveste said. "We actually need to know each other. The university is so important because you bring people who are different together.
"And when you are exposed to people, and get to know them as human beings, you realize that everybody actually wants the same things — safe communities, affordable housing, good jobs, retirement with dignity."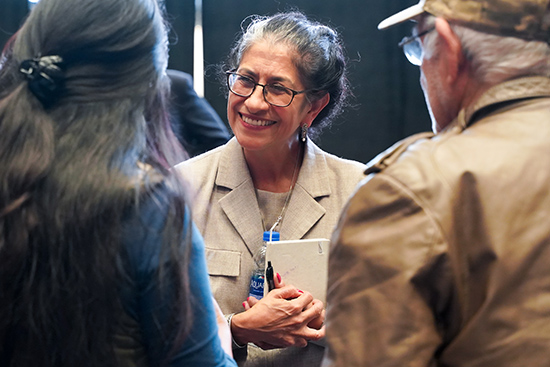 Brostrom asked how citizens should react to movements aimed at discouraging voting, such as an effort in Texas to limit the ability of college students to cast ballots.
Echaveste said we must realize "there are forces out there trying to keep us from voting."
Many people have been turned off from politics by the "us versus them" bickering, she said, and parties need to do better at encouraging participation. But we cannot allow ourselves to be lulled into believing one's vote doesn't matter.
"Our leaders, at the highest levels of office, are using our technology and our media to drive people further apart," she said. "This is a critical moment."
She encouraged people to become involved in local government and to find projects and issues they're passionate about in order to build change.
American democracy, she said, was created as an experiment, founded on the idea of giving people power over their government. "And we do that through civic engagement and by holding our institutions accountable," she said.
While there are influential forces seeking to consolidate power, divide Americans, and discourage political participation, there is still the chance to become involved, Echaveste said."I take heart from the fact that, across the country, there are people working to make change in their communities," she said. "They're not sitting back."
"Our leaders ... are using our technology and our media to drive people further apart. This is a critical moment."
Echaveste, who was deputy White House chief of staff under President Clinton and special representative to Bolivia during the Obama administration, is president and CEO of the Berkeley-based Opportunity Institute.
She spent part of her childhood in Clovis and worked, with her family, as a farmworker before attending Stanford and UC Berkeley. Her ability to pursue higher education, she said, was largely due to the investments California made in its educational systems. But public spending on schools has slid since then, she said, and there is a pressing need to build opportunities to help every child develop their potential regardless of factors beyond their control, such as their race or zip code.
"It's not fair to kids without a choice to say 'Oh, you didn't make it; that's your fault.' No," she said. If a child is not given opportunities to succeed, then "we didn't do what we were supposed to do as a society."