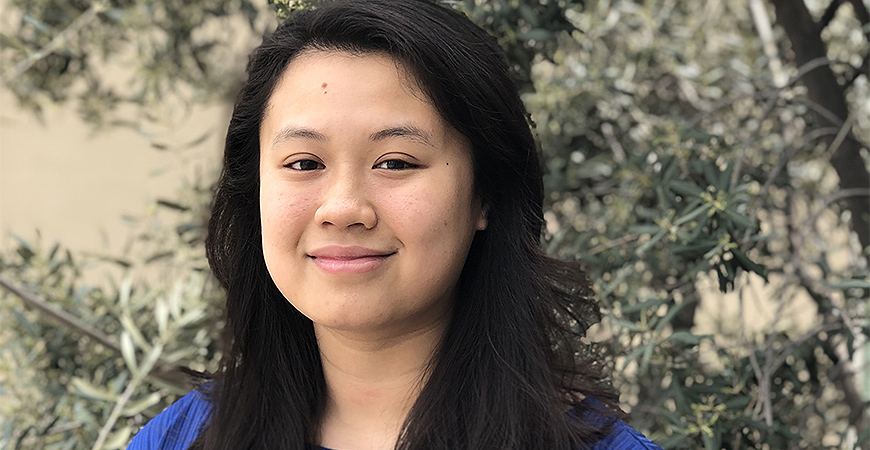 Quantitative and Systems Biology (QSB) graduate student Anh Diep will represent UC Merced at the University of California Grad Slam finals in San Francisco on May 10.
At UC Merced's Grad Slam final round in April, Diep presented her dissertation research "To Clear or Not Clear: A Valley Fever Mystery," in just three minutes to a panel of non-specialist judges, earning first place and $5,000. Second place and $1,500 was awarded to QSB student Jourjina Alkouri, and third place and $500 went to QSB student Craig Ennis.
"We're thrilled to have Anh represent UC Merced at this year's Grad Slam finals," Vice Provost and Graduate Dean Marjorie Zatz said. "We had some intense competition, and her research presentation stood out from 30 of her peers."
Diep, a second-year Ph.D. student, joined Professor Katrina Hoyer's lab in 2018 after spending a year rotating with three labs on campus. She started on the Valley fever project last fall.
"My project is defining how the early responders, the innate immune cells, shape your immune response and memory down the road," she said in an interview. "Our working theory is that the immune system is skewed in some patients, resulting in an ineffective response that cannot clear the fungus causing Valley fever."
Researchers in Hoyer's lab published a study analyzing blood samples from pediatric patients at the time of Valley fever diagnosis. They identified something unique about the blood profiles of patients who would become chronic versus patients who could clear the disease on their own.
"We found a striking difference within the immune cell populations in the blood," she said. "However, Valley fever is a respiratory disease. We need to compare the immune responses within the lungs to our findings in the blood to determine how an effective response occurs."
Diep, who was born in Vietnam and moved to San Jose with her family at the age of 6, graduated from UC Merced with a bachelor's degree in biological sciences in 2017.
Diep's first research experience was during her sophomore year as an undergraduate research assistant in a political science lab with Professor Steve Nicholson and a linguistics lab with Professor Teenie Matlock. She analyzed language and metaphor usage in newspapers and news segments to understand the sociopolitical ramifications of word usage.
Her junior year, she joined Professor Kirk Jensen's research lab, which focuses on parasitic disease, beginning her interest in pathogens and host responses.
Grad Slam is giving me the platform to continue to spread this message about the Valley and its health disparity.
Diep said the Merced 2020 Project was a contributing factor in her decision to pursue her doctoral degree at UC Merced. She works with a weakened artificial lab strain of the fungus that caused Valley fever. In 2020, Hoyer's lab will move to the new biosafety level 3 lab — a specialized research laboratory for handle infectious agents — giving Diep the opportunity to work with the unmodified fungus.
Before moving to the San Joaquin Valley in 2014, Diep had never heard of Valley fever. She said more awareness about Valley fever is needed among the general community and healthcare providers.
"Endemic diseases like Valley fever have invisible costs including healthcare bills, loss of quality of life and lost productivity," she said. "Though few people die from Valley fever, the cost for living with the disease is high.
"This disease doesn't get the attention it deserves. The rate of infection is increasing and the endemic regions are growing. Cases of infection have been identified in almost every county in California."
UC Merced's Grad Slam winner hopes sharing her research message beyond the Valley will help increase awareness bringing more focus to this disease.
"Grad Slam is giving me the platform to continue to spread this message about the Valley and its health disparity," Diep said. "It's a really great way to connect with a larger audience."
"I look forward to the challenge of presenting at the UC-wide Grad Slam and representing UC Merced. I'm proud to be a UC Merced graduate student studying a locally relevant disease!"
Everyone is invited to watch the UC Grad Slam finals via livestream beginning at 10:30 a.m. Friday, May 10, and cast a vote for Anh Diep for the People's Choice Award.
Senior Public Information Representative
Office: (209) 228-4203
Mobile: (209) 628-8263