Before Executive Chef Mitch Vanagten and his Dining Services team members saw blueprints for The Pavilion — UC Merced's new dining center and centerpiece of the Merced 2020 Project's first phase — they were already working hard to create an environment that provides good food, creates a sense of community and champions sustainability.
As the campus springs to life this week with the return of students, Dining Services crew members are putting their plans in action to make the Pavilion, a 600-seat facility overlooking Little Lake, a destination for all and that makes people feel welcome.
"We want people to know they can always come here and have a meal they'll enjoy or sit at a communal table to talk to a friend or meet with a faculty member or administrator," Vanagten said. "We want visitors to feel like this is their second home."
To make that vision a reality, the crew spent months planning and stirring up their creative juices. They developed new recipes, taste-tested countless dishes and sampled new sauces while preparing to serve the campus community in a new, bigger facility with state-of-the-art equipment.
Bigger Space, More Variety
The Pavilion will provide a lot more elbow room for those who frequented the original Yablokoff-Wallace Dining Center. The new facility includes expanded indoor and outdoor seating and two private dining rooms that host 25 and 75 guests, respectively.
Coordinating operations for Dining Services' catering, residential dining and bakery departments was challenging at times, but now each department has its own dedicated cooking, baking, preparation and food storage. Staffing the larger Pavilion meant hiring additional workers, but also provided a career boost to existing staff members such as Maria Maravilla and Nicole Fleming, who've both worked at UC Merced for 13 years. Each recently earned promotions, with Maravilla now a chef and Fleming a senior cook.
"Both have been with me since the beginning and have gone through all the changes," Vanagten said. "I'm happy they had an opportunity to apply for higher-level positions and were able move up."
With more physical space for prepared foods, chefs, cooks, bakers and other creators of culinary goodness have expanded the menu with suggestions from students and other patrons guiding their efforts.
Diners can now choose from three soups, with meat, vegetarian and vegan options. The expanded salad bar carries roasted vegetables, whole and cut fruit and pre-made specialty salads. Mexican, Asian and Italian dishes — mole and chile verde, protein bowls and specialty pastas — are served at the Cascabel, Lake Wok and Ciao stations.
We want people to know they can always come here and have a meal they'll enjoy.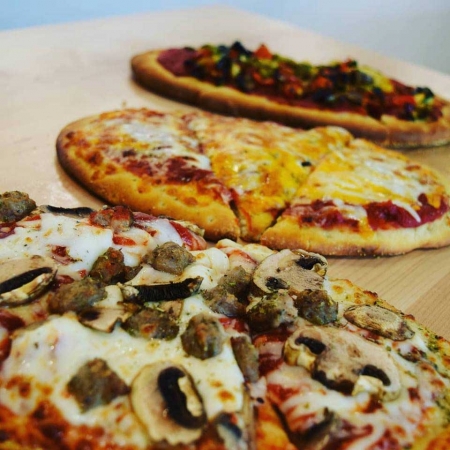 At the made-to-order sandwich station, diners can choose from a variety of fixings, including two bread choices baked on site. If you're hankering for a juicy hamburger or loaded French fries topped with carne asada or buffalo chicken, stop by Rufus' Grill, which includes the new, award-winning Baconings burger.
Baconings, the brainchild of chefs Gilbert Rios and Matt Perez, won the top prize at the Greater Merced Chamber of Commerce's Burgers and Brews competition in May. It's made with local ingredients, including Harris Ranch beef.
Preparing meals with local ingredients is a sustainable practice that leaves a lighter footprint on the environment, supports local farmers and businesses and produces better-tasting food.
"We want to support the local economy, so we're incorporating as many local ingredients as possible," Vanagten said.
Currently, 70 percent of Dining Services' offerings — including soup stocks and broths, cookies, pastries, breads, marinara sauces, salsas and other items — are made from scratch. The goal is 80 percent.
"If we can do that and still stay within prices our students can afford, it's an easy decision to make," Vanagten said.
To increase its connection with the campus community, Dining Services has also ramped up its social media presence. To learn more about Dining Services professional and student staff members or get a glimpse of what's cooking and more, follow Dining Services on Facebook, Twitter and Instagram.