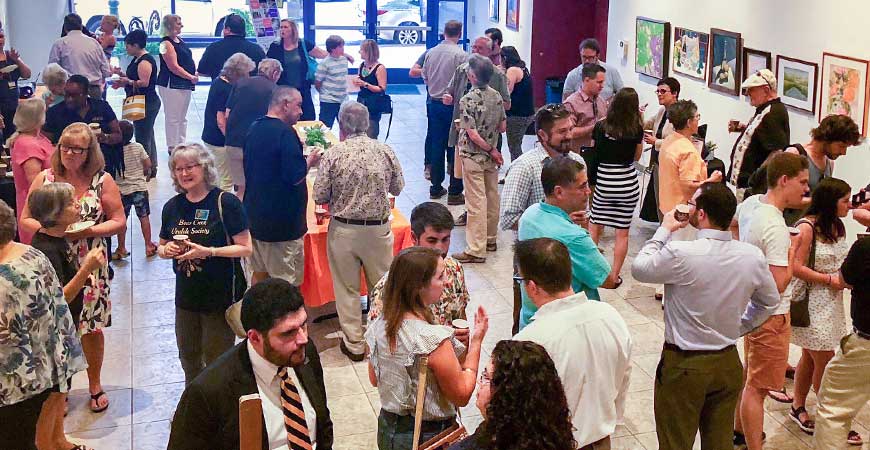 Merced 'DNA' Hosts Meet and Greet
UC Merced's downtown neighbors rolled out the welcome mat last Thursday for a mixer with campus community members.
Merced Mayor Mike Murphy, Merced County District Two Supervisor Lee Lor, staff members, administrators and others from schools and departments across campus attended the after-work gathering hosted by the Merced Downtown Neighborhood Association (DNA).
Guests nibbled on finger sandwiches and desserts, sipped flavored water, punch and sangria while mingling with colleagues and making new acquaintances during the two-hour shindig. The Bear Creek Ukulele Society -- with nearly two dozen players on hand -- performed for the crowd. Guests also perused art on display throughout the center and were treated to a slideshow of available homes in the downtown area.
Merced Downtown Neighborhood Association President Diana Odom Gunn was pleased by the turnout.
"It's wonderful," Odom Gunn said. "We wanted the opportunity to let UC Merced know we're glad to have you here. Everyone is having a great time and they're interested in the downtown neighborhood."
The event was held at the Merced Multicultural Arts Center, one block south of the Downtown Campus Center (DCC). The 67,400-square-foot center opened in February and includes offices, seminar and conference rooms and mixed-use space for community collaborations.
"We're pleased by the warm welcome we've received from our downtown neighbors and the community at large," said Vice Chancellor and Chief Financial and Administration Officer Veronica Mendez. "We're excited to be a part of Merced's downtown revitalization. Having a presence in the heart of downtown strengthens our connection to the community and creates new opportunities for collaborations."
The Merced DNA is a non-profit community organization focused on improving the city's downtown neighborhoods and increasing advocacy, beautification and community engagement among neighbors. For more information about the Merced DNA, check out the organization's Facebook page or send them an email.
Second-Year Undergrad Wins $5,000 Four-Year Scholarship
Melissa Rios-Arias, a second-year psychology major from Salinas, is one of 20 students to receive a 2018 scholarship from Taylor Farms.
The Taylor Farms Scholarship Program, now in its 10th year, is for children of children of Taylor Farm employees. Rios-Arias received a renewable $5,000 scholarship. She will receive $5,000 per year for four years if she maintains a minimum 3.0 GPA. Both of Rios-Arias' parents work for Taylor Farms.
Winners of the 2018 Taylor Farms scholarships were honored during a luncheon last month. In an essay she wrote, Rios-Arias credited her parents for encouraging their children to pursue higher education.
"When my parents would get back from work, exhaustion clearly visible in their long faces, they would often tell us to get a college education and a good career, so we wouldn't have to work as hard as them," she wrote.
Rios-Arias is also pursuing a double minor in the Global Arts Studies Program (GASP) and teaching. After she graduates, she wants to work with children and start a nonprofit organization that helps students whose families can't afford to pay for college. She plans to return to her hometown to teach and help undocumented, immigrant and low-income families figure out how to support their children in furthering their education.