UC Merced Chancellor Dorothy Leland welcomed downtown business owners and members of the Merced Main Street Association for coffee and a chat at the new Downtown Campus Center on Friday.
"We are committed to decreasing the distance between the campus on the lake and the downtown," Leland told the group. "Thank you for welcoming us."
MMSA members got a chance to mingle and talk about plans before Manuel Alvarado, CEO of the Greater Merced Chamber of Commerce, offered a few remarks, including urging people who work downtown to get involved with MMSA's four standing committees: Organization, Promotion, Design and Economic Development. Committee members do not have to be business owners, and are critical to helping plan events, upgrading facades and accomplishing other goals the organization has set.
"Having the DCC here is a win-win-win for the downtown, and when there are classes, students and faculty here, it will only get better." Alvarado said before the event started. "We have already seen an increase in foot traffic and revenue."
MMSA President Robert Matsuo agreed.
"I think the downtown's nighttime recreational retail is really going to pick up, be it bars, the cinema, the playhouse, the art venues," he said. "I think we've got a great partnership going with the university, and we're looking at this in the long-term."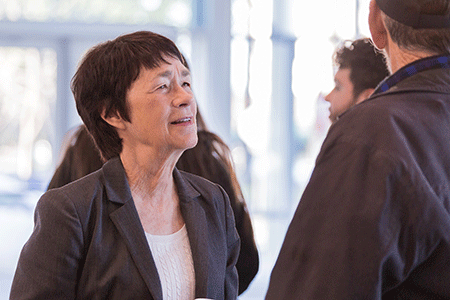 The MMSA organizes quarterly coffee events with local leaders to provide and receive updates. Now that the new DCC is open, this quarter's meeting seemed like a perfect opportunity to get together and share information about current and future issues as neighbors sharing the downtown space.
"Leaders at UC Merced have worked to build bridges between the campus and the downtown," Alvarado said. "We're excited about this new bridge because as the DCC population grows, we will hope to see faculty, staff and students participate in the renovation of the arts corridor and the downtown revitalization."
The MMSA, founded in 2014, aims to improve the downtown district by fostering a diverse, safe and pleasant retail and entertainment environment. It serves as a voice for Main Street merchants, operates the Façade Grants program to provide matching funds to Downtown businesses that do façade improvements and the Celebrate Downtown program which allocates funding for events around the Downtown area. 
The MMSA has also supported UC Merced in the past year through its Celebrate Downtown program. The group sponsored a hydration station for Alumni Relations' Journey 5K Run in September, and sponsored the popular balloon artist at UC Merced's Homecoming event in October. 
People who work at the DCC are welcome to join any of the MMSA's four committees and can get more information on the group's website.

Senior Writer and Public Information Representative
Office: (209) 228-4406
Mobile: (209) 201-6255