In some ways UC Merced is still a blank canvas, even 13 years after opening.
But that just gives this year's artist in residence Otto Rigan more room to dream as he helps devise a master arts plan for the campus.
"I think the campus is beautiful," Rigan said, "but it's missing the unexpected…the voice of the arts. If there had been an arts plan in place all along, art could have been integrated as new buildings emerged."
Rigan is here at least through February to work on the plan with people across campus to devise a campus art philosophy that will guide UC Merced as it grows.
Former School of Social Sciences, Humanities and Arts Dean Jill Robbins, who recruited Rigan for the artist-in-residence post, said she envisions an arts plan that recognizes the diversity and beauty of the region and the campus through art experiences that will become part of everyday life at UC Merced.
"We need experiential art," Robbins said. "We need to create spaces that are not strictly academic, and pieces that speak to us, that express the stories of UC Merced."
There are places around campus for temporary and permanent pieces and exhibits and developing a coherent vision for public arts will help guide campus aesthetics going forward.
"For example, there are wind alleys on campus, and there are artists who compose visual or audible environments driven by wind. There are artists who design environments with light or give voice to the flora and fauna in subtle ways," Rigan said. "The point is to work with the nature of the place."
He said it's also important to include art that is linked to the sciences, engineering and other academic programs in recognition of the campus's intellectual and research missions.
For Rigan, who lives in Tucson now, this appointment is a homecoming. He grew up here and graduated from Atwater High School and started his college career at California State University, Stanislaus. He always wanted to be an artist, but couldn't get enough training here, so he moved to Oakland to attend the California College of Arts and Crafts — now known as the California College of the Arts — and then to la Accademia di Belle Arti in Florence, Italy, home to such masterworks as Michelangelo's Slaves and his marble sculpture of David.
He spent time in London working in a West End theater, in New York and then in Marin County, apprenticing with an architectural glass studio and glass artists, before settling in the Southwest. He has written books about glass art and art as architecture, has helped conceptualize a museum and see it through to its opening, sits on boards of two civic public art programs and developed an art master plan for an urban community. He also creates public art works, mostly in stone and glass, but other types, too, including an iron-and-glass entry sculpture and a large earth works at Spaceport America in New Mexico.
He said he returns to the San Joaquin Valley with "fresh eyes and a renewed mission."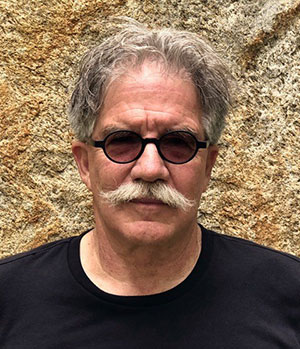 Rigan won't take any new professional art commissions while he is the artist in residence at UC Merced, but he has lectured and worked with students on and off campus.
Rigan will have office hours on campus in the Social Sciences and Management Building, just down the hall from the UC Merced Art Gallery (SSM 106), where he can work with students, faculty and staff who want to participate in the arts plan or on other projects such as lectures, seminars and exhibits. He's interested in working with some of the campus's art students, such as the members of the Young Artist Movement, and hopes they can plan an exhibition for the spring.
People will get to see an example of his work on campus when, in early December, Rigan plans to install a 5,000-pound stone sculpture in the open area south of the Social Sciences and Management Building. This will be a temporary placement that will remain until he returns to Arizona.
Rigan will work with people across campus to ensure that the master arts plan is the result of relationships and partnerships, but one that also lets the beauty of UC Merced and its environment shine.
"This is a unique place, and it would be best to have a plan that allows art that accentuates that uniqueness. This place deserves to have its roots and heritage respected," Rigan said. "There are magical things that can happen through the arts."

Senior Writer and Public Information Representative
Office: (209) 228-4406
Mobile: (209) 201-6255