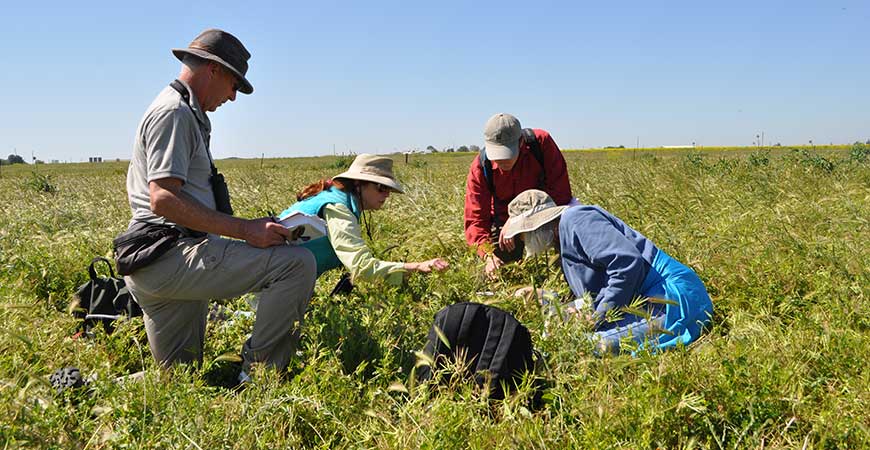 If you love California's great outdoors and are interested in learning about the state's natural history and ecology, unleash your inner John Muir by becoming a certified naturalist through a state program that's offered at UC Merced.
The UC California Naturalist Program prepares participants to become volunteer naturalists who can take an active role in local natural resource conservation, education and restoration efforts. The 10-week training program combines science instruction with guest speakers, field trips and project-based learning.
Training begins Feb. 15 and ends April 26. Participants will meet weekly Thursday evenings from 5:30 to 8:30 p.m. Field trips will take place on four Saturdays.
UC Merced faculty members and other local experts will present information during the program, which is sponsored by the UC Merced Vernal Pool & Grassland Reserve in partnership with the Merced County UC Cooperative Extension Office and the Upper Merced River Watershed Council.
Trainees will receive a broad overview of California's natural history and learn about the uniqueness of the San Joaquin Valley and central Sierra Nevada foothills ecology. The courses will include training on a variety of topics:
Wildlife and plant communities
Water and aquatic ecosystems
California geology and soils
Bird study
Invertebrates and insects
Global environmental issues and climate change
Vernal pool ecology
Wildflower identification
Nature journaling and sketching
The course fee is $350 and includes the required texts. This year, a limited number of partial scholarships, provided by the Watershed Council, are available to offset the fee. Those seeking a partial scholarship must submit their registration and scholarship forms by Feb. 1. Participants who will pay the course fee must register by Feb. 8.
Upon completing certification requirements, participants are eligible for four academic credits through UC Davis Extension for an additional fee.
Anyone — students, faculty, staff and community members — can apply for the scholarship, said Monique Kolster, director of the UC Merced Vernal Pools and Grassland Reserve and coordinator of the campus's naturalist program. Participants will get to explore natural settings — such as the vernal pools — around the campus and beyond.
"During the last two years, we've had a handful of UC Merced students participate in the program, but most of our participants are community members," Kolster said. "One of the program's main purposes is to create a core of volunteers who can take active roles in natural resources preservation, conservation, restoration and environmental education in our area."
Rancher and photographer Diane Bohna of the Madera County town of Raymond was in the Merced program's first cohort in 2015. Although the program is held at locations throughout the state, knowing it was going to be offered at UC Merced cemented her decision to register.
"I live, sleep and breathe environment. That's what I do," Bohna said. "Being in my position as a rancher, the environment, outdoor living and nature as a whole — that's what defines me."
Bohna called the experience interesting and interactive.
"I loved learning how California came to be, and about the development of the Sierra Nevada mountains and their current state," she said. "I loved learning the background of where I've lived most of my life. I also enjoyed how UC Merced faculty and people with different interests came to the class and told us about their firsthand experiences, knowledge and studies."
Additional details about the training program — including registration, scholarship information and a list of frequently asked questions — are available online.
"I loved learning the background of where I've lived most of my life. I also enjoyed how UC Merced faculty and people with different interests came to the class and told us about their firsthand experiences, knowledge and studies."
Senior Public Information Representative
Office: (209) 228-4203
Mobile: (209) 628-8263