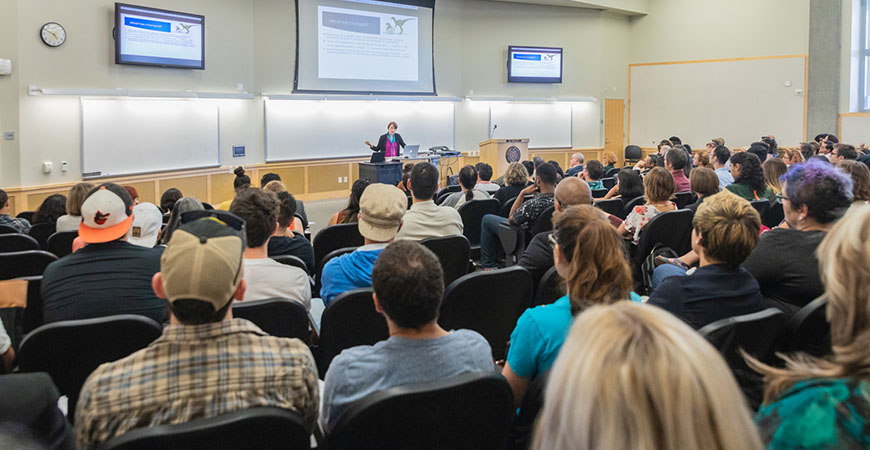 UC Merced is uniquely positioned to be a change agent in how the academy addresses diversity in STEM, said Professor Donna Riley, the Kamyar Haghighi Head of Purdue's School of Engineering Education.
Riley was the featured speaker at the Chancellor's Dialogue on Diversity and Interdisciplinarity on Sept. 13, addressing the need to take a different approach in diversifying the science, technology, engineering and math fields. Age and student demographics make UC Merced the right university to lead the change, Riley said, calling out recent grants received to create curriculum in biological sciences and chemistry that is more inclusive of underrepresented, non-traditional students.
Curriculum design can make a huge impact on inclusivity and student success. Riley pointed to a study of Carnegie Mellon's gender gap in computer science, where the number of women entering the program grew from 13 percent in 1995 to 42 percent in 2000 after curriculum was redesigned to eliminate barriers to entry that had no relation to academic standards.
The reason this worked, Riley said, is because it took the diversification focus from the individual to the root cause of inequity — biased institutions and organizational systems. The idea of shifting the diversity narrative is one that Professor Anita Bhappu, with the School of Engineering's Gallo Management Program, found particularly meaningful.
"We should measure whether faculty are leveraging students' diverse experiences and perspectives in their courses, and then reward excellence in inclusive teaching," she said. "What gets measured gets done, and what gets rewarded gets done well."
The timeliness and relevance of Riley's talk was evidenced by the standing-room-only crowd that packed Room 120 of the Classroom and Office Building.
Curiosity could have been the theme of the evening. Riley encouraged everyone in the room to be curious about "the way things are" instead of being resigned to it. She challenged faculty members in the room to be transparent in initiating these conversations in the classroom and students to do the same.
The funny thing about education and empowerment, she said, "is that students will challenge you to get your own house in order" once their eyes are opened to these issues. "Embrace it," she said. "It's why we're all here."
"What gets measured gets done, and what gets rewarded gets done well."
Established in 2016, the Chancellor's Dialogue lecture series brings leading scholars to campus to discuss pressing issues confronting higher education today. Lectures are held once per semester. The Chancellor's Advisory Committee on Queer Issues suggested Riley as a speaker this year because of her work in diversifying academia in general and engineering, specifically.
De Acker, the director of campus climate and evening emcee, said Riley's talk was perfectly timed for the University of California's newest campus, where perseverance reigns.
"She brings a fresh perspective and inquisitiveness to the work and is an out and visible bisexual," Acker said. "I really liked her 'theory of change,' which she calls the 'César Chávez theory of change.' In the farmworkers labor movement, César knocked on doors and knocked on doors, right? You may get a lot of doors slammed in your face, but occasionally someone opens the door."
UC Merced opened its doors and in turn, Riley opened minds. Alyssa Young, a student in the university's first master's of management cohort, said she appreciated how Riley illustrated the complexity of STEM's diversity problem.
"We have to get down to the societal root causes that hinder STEM's lack of diversity in all forms — race, ethnicity, gender, ability, etc. — if we're to be truly inclusive," she said. "The idea that STEM disciplines could benefit from applying sociology principles to diversification efforts makes sense but knowing tension that such a suggestion causes among scientists and engineers helps me to appreciate why progress has been so slow."
For more on the lecture series, email chancellorevents@ucmerced.edu or visit the Office of the Chancellor website.