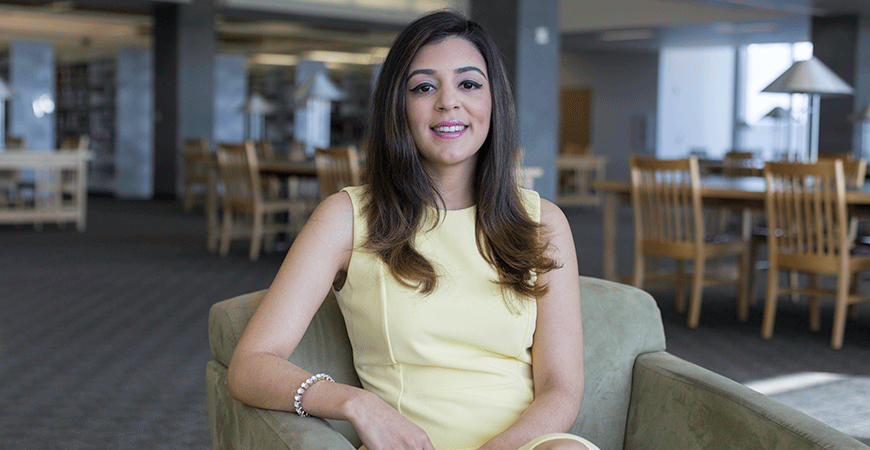 UC Merced graduate student Danielle Bermudez will spend the next 10 months in El Salvador, conducting research and serving as a cultural ambassador for the campus as a Fulbright U.S. Student Researcher.
She is the campus's first student winner of the Fulbright U.S. Student Program. There are other types of Fulbright grants, but this one is specific to students.
"I am honored to be the recipient of this prestigious award and represent UC Merced," said Bermudez, a fifth-year Interdisciplinary Humanities Ph.D. candidate in the School of Social Sciences, Humanities and Arts. "I was mentored by wonderful faculty members and staff, and this would not have been possible without their dedication and support of my application."
Her research will explore how people bear witness to mass violence and what role social memory plays in healing after societal trauma. She is specifically interested in how indigenous Nahuat women assert ideas of humanity, dignity, justice and respect such as through public commemorations. 
"Indigenous epistemologies can collectively teach us how social memories of violence in the aftermath of trauma offer broader solutions for healing and reconciliation," she said. "While my research centers on El Salvador and on social memories of indigenous communities in this area impacted by violence and trauma, I believe understanding how indigenous communities heal can offer broader cross-cultural solutions for reconciliation and healing." 
She will conduct archival research and interview people as part of the fieldwork for her dissertation. 
"I hope other students apply to the program. The Fulbright program provides an opportunity for students to connect with others around the world. Students at UC Merced are brilliant, and I believe we have much to offer."
Bermudez, from Berkeley, earned her bachelor's degree in feminist studies with a minor in global studies from UC Santa Barbara in 2013. A faculty mentor at Santa Barbara, Professor Horacio Roque Ramirez, suggested Bermudez pursue graduate studies at UC Merced. Bermudez began work with Professor Robin Maria DeLugan, who has been with UC Merced since 2006 and is well-known for her research into community collective identity; migration and transnationalism; political anthropology; and indigenous peoples of the Americas.
Bermudez earned her master's degree in Interdisciplinary Humanities at UC Merced, and through her work with Professor Arturo Arias, she became more familiar with research on El Salvador. She grew up in the United States, but her family is from El Salvador and emigrated during the civil war in the 1980s. She said she still has family members in El Salvador, and they are excited about her doctoral research.
Bermudez spent three weeks there in 2015 on a research trip which introduced her to many faculty members and students in El Salvador, as well as government officials and representatives from various cultural organizations.
She participated in a community vigil for the beatification of Monseñor Oscar Romero, a Catholic archbishop who spoke out against poverty, social injustice, assassinations and torture during the war and was assassinated in 1980 while offering Mass. She attended witnessed delegations from around the world at Romero's ceremony. She also attended a sociocultural anthropology conference, visited world heritage and archaeological sites, met with indigenous and community leaders, observed a Nahuat blessing of the corn ceremony and met the secretary of Culture to discuss the country's initiatives around indigenous rights. 
"These experiences were transformational to my personal and professional journey, as El Salvador publicly reckons with past violences and its intersections with the present," Bermudez said.
She particularly thanked professors DeLugan, Arturo Arias, Paul Almeida, David Torres-Rouff, Anneeth Kaur Hundle and Nigel Hatton for having been integral to her work at UC Merced and for helping her earn the Fulbright award.
Fulbright scholarships are extremely competitive. Arkansas Sen. J. William Fulbright passed federal legislation to establish the program in 1946, and the program is sponsored by the U.S. Department of State's Bureau of Educational and Cultural Affairs. The Fulbright Program awards approximately 8,000 grants annually. About 370,000 people have participated in the program since its inception.
The program provides Bermudez with monthly stipends to live abroad and connects her with a network of Fulbright winners, alumni, other scholars and diplomats. She is also sponsored by an affiliated university in El Salvador.
When she returns, she plans to share her research findings with the campus community. After she finishes her dissertation, she said, she aims for a tenure-track faculty position at a research university through which she can research and teach courses on El Salvador related to gender, indigeneity and social memory to further promote cultural exchange and mutual understanding transnationally.
"I hope other students apply to the program," Bermudez said. "The Fulbright program provides an opportunity for students to connect with others around the world. Students at UC Merced are brilliant, and I believe we have much to offer."

Senior Writer and Public Information Representative
Office: (209) 228-4406
Mobile: (209) 201-6255