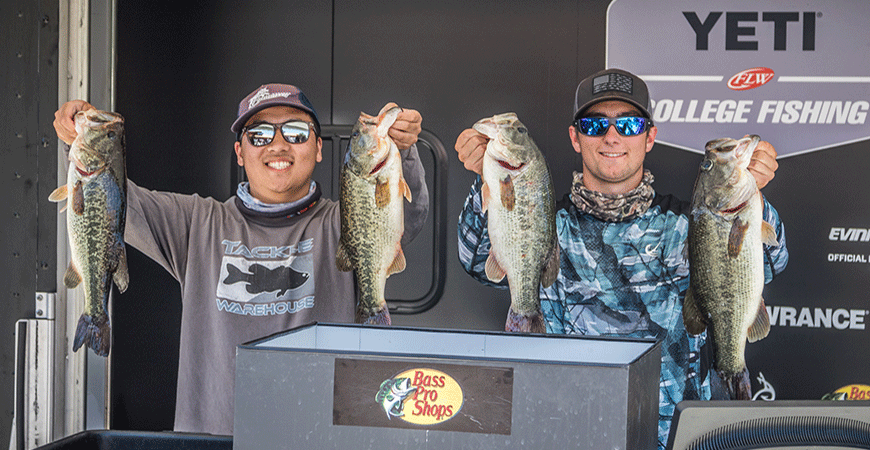 A pair of UC Merced students showed off their bass-fishing skills by winning a Fishing League Worldwide event last weekend, earning themselves a spot in next year's finals.
Herbie LeBlanc of Gilroy and Tshu Xiong of Merced caught the limit of five bass, weighing a total of 19 pounds, 10 ounces, to prevail in the YETI FLW College Fishing event at Konocti Vista Casino Resort & Marina on Clear Lake. Their victory garnered the Fishing Club at UC Merced $2,250 and a spot in the 2019 FLW College Fishing National Championship. The club's faculty advisor is Professor Nate Monroe.
The team found a prime spot to begin their fishing last Saturday, with clear water and numerous shad. LeBlanc, a junior Earth systems science major, said he and Xiong decided to stay on the north end of the lake and seek out areas that hadn't been affected by wind.
"We found a lagoon with a bunch of docks, and when we went in I got a bite in the first 30 feet of entering the area," he said. "We ended up staying there all day and fishing the whole thing."
He and Xiong said they caught about 15 keepers, each using a different kind of bait. Their fattest five fish were their tournament entries.
"Fishing slowly and methodically was very important," said Xiong, a senior majoring in human biology. This was his first college tournament.
Nine other teams will also advance to next year's fishing championships, including five teams from California State University, Chico, one from New Mexico State, two from Sonoma State and one from California Polytechnic State, San Luis Obispo.
The YETI FLW College Fishing event was presented by Bass Pro Shops. It was the second of three regular-season qualifying tournaments for Western Conference anglers in 2018. The location for the 2019 finals has not been announced yet.