Biology Professor Anna Beaudin was named a member of the 2018 class of Pew Biomedical Scholars today, one of 22 early-career researchers nationwide to receive this year's prestigious award.
"I am thrilled and humbled to be joining such an accomplished and talented group of scientists as a 2018 Pew Biomedical Scholar," Beaudin said. "Receiving this award will give my lab the opportunity to dig deeper into how early life events shape immunity across the lifespan and contribute to autoimmune disease susceptibility."
The award provides Beaudin with four years of funding at $75,000 per year. Beaudin will use the funds to study how stimulating the immune system during pregnancy — for example, immune system activity resulting from an infection acquired by an expectant mother — influences the risk for autoimmune disorders in offspring later in life.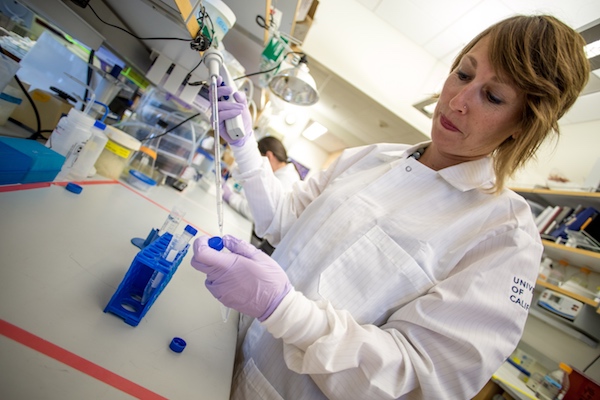 Beaudin is the second UC Merced faculty member to receive the award. She joins biology Professor Clarissa Nobile, who became UC Merced's first Pew Biomedical Scholar in 2015.
The Pew is awarded annually to promising early-career biomedical researchers who have held the rank of assistant professor for three years or less. Beaudin — who joined the UC Merced faculty in 2016 after completing postdoctoral work at UCLA and UC Santa Cruz — was selected from a competitive pool of 184 candidates nominated by leading research institutions around the country.
Beaudin joins a community of more than 600 prior Pew winners, many of whom are among the world's most distinguished scientists, including Nobel Laureates and Lasker Award winners.
"This award is a testament to the quality and vision of Professor Beaudin's research program," Dean of Natural Sciences Betsy Dumont said. "She exemplifies the strength of our faculty and their capacity to move whole fields of science forward."