When Mario Banuelos was 12, his mother took him into the fields to tie grape vines.
The labor was tough and the wages were meager. After just one day on the job, Banuelos knew that his path in life would be different. He worked even harder in school and earned nearly straight As. His efforts paid off when he was selected for the prestigious Gates Millennium Scholars program.
This spring, Banuelos will complete his doctoral studies in Applied Mathematics at UC Merced and participate in the university's 13th spring commencement. He's already secured a tenure-track position at Fresno State, where he will teach and work with undergraduates on research.
Banuelos' education and career path reflect his work ethic and commitment to the region.
"Students in the Central Valley are really important to me," said Banuelos, a first-generation college student and Delano native. "I know the struggle that these students have."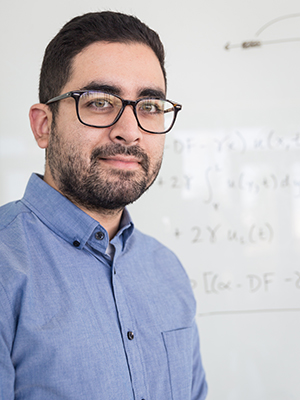 Banuelos grew up in a single-parent household with an older brother and younger sister. His mother worked in the fields, and his brother worked in a warehouse to help make ends meet. Even so, the family moved often due to financial hardship.
In high school, Banuelos contributed by working in the cafeteria and then a law office after school. He would arrive home around 6 p.m., take a short break and then start his homework.
With the help of his boss at the law firm, Banuelos applied for and received a Gates Millennium Scholarship, available to outstanding minority students. The program, established in 1999 through a grant from the Bill & Melinda Gates Foundation, pays for an undergraduate education and helps scholars pursue graduate studies in specific disciplines, including mathematics.
Banuelos graduated from high school in 2008 and went on to Fresno State, where he earned a bachelor's degree in math in 2012. He then earned a teaching credential from California State University, Bakersfield, and taught high school for one year in Delano. He was drawn to teaching, but also wanted to explore math further.
"I really wanted to do research in higher math," Banuelos said. "I wanted to continue pursuing higher math but also stay in a region where I knew the students."
Banuelos considered a master's program at Fresno State but felt drawn to UC Merced during a campus visit. He loved the enthusiasm of the faculty, the collegial atmosphere and the interdisciplinary approach of the applied math program.
"The people and the research were the top reasons I chose UC Merced," Banuelos said. "It was an environment where you could grow."
The people and the research were the top reasons I chose UC Merced.
Banuelos now studies how DNA differs between related individuals — mainly parents and their children – and he uses math to sift through data and identify genetic changes that make each individual genetically distinct. His research may help doctors create personalized treatments for diseases like cancer.
Banuelos is a member of Professor Suzanne Sindi's applied mathematics research group and has also served as her teaching assistant. Sindi described Banuelos as an intelligent, dedicated student who appreciates a challenge and can manage the ups and downs of research.
"Mario is very good at soliciting feedback and responding to feedback," she said.
Sindi said it is rare for a new Ph.D. in applied math to go from graduate school directly into a university post — a sign of Banuelos' academic accomplishments.
"It really speaks to his maturity and research — the strength of his research plus his great record of teaching and working with undergraduates," she said. "I'm so excited that he has the commitment to stay in this region and to contribute to the growth of education in this region."
Senior Public Information Representative
Office: (209) 228-4203
Mobile: (209) 628-8263