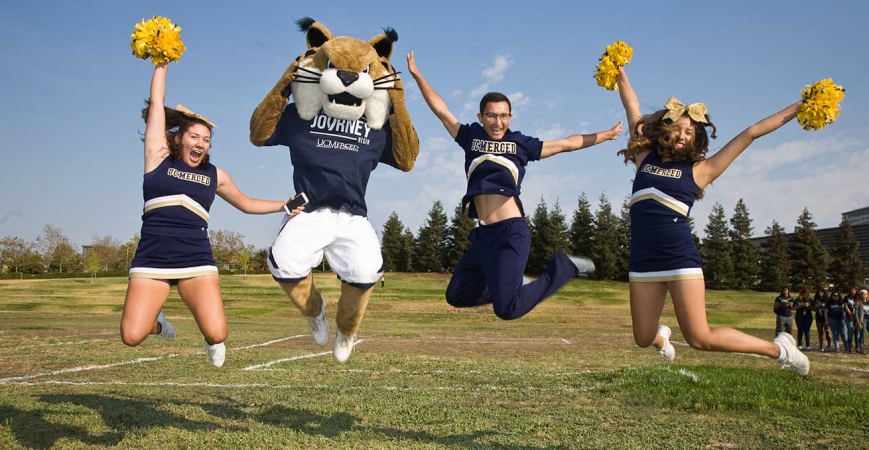 Five years before it opened, UC Merced held a mascot-naming contest for local elementary school students. Among the nominees: the Marmots, the Hawks and the Black-Tailed Hares
"There was an aspect of wanting to be unique, but then how unique do you want to get?" said Paul Micu, who worked as a student affairs officer for the University of California from 1996 to 2001 and served on the UC Merced mascot naming committee. "We wanted something more indigenous to the area."
The bobcat (Lynx rufus), frequently found near and sometimes on campus, ultimately won out with its whiskers and black-tipped ears.
"(Founding Chancellor Carol Tomlinson-Keasey) added the word 'Golden' to Bobcat to make it unique, and that became the newest University of California symbol," Director of Admissions Encarnacion Ruiz said. "Although Golden Bobcats was the official name, people soon began to refer to us simply as the Bobcats."
A life-sized, bronze statue of a bobcat is located at the crest of the Scholars Lane Bridge and was commissioned by the Class of 2007 as its gift to the campus.
The following article appeared in the September 2017 issue of Merced Monthly, an e-newsletter for the UC Merced campus community and friends. To subscribe, click here.
A few years after the campus opened, a group of UC Merced students put forth the fairy shrimp, small crustaceans that spend their entire lives in vernal pools like those near campus, as a possible mascot replacement. However, when it was put to a student vote, the Golden Bobcats prevailed.
Over the past decade, there have been two costumed bobcat mascots. The original furry getup was named "Boomer" after the bobcat cub that was anonymously given to Merced's Applegate Zoo in 2005 and was adopted as UC Merced's unofficial live mascot.  
The second, "Rufus," was created to resemble the campus's athletics logo, launched in 2011 when UC Merced began competing at the varsity intercollegiate level. Rufus can be found entertaining crowds and posing for fan photos during sporting and social events, and the campus community can request his appearance at special events.
"When I see Rufus walking around campus, I think of the strength of our tight-knit community," Associated Students of UC Merced President Salma Memon said. "Our Bobcat mascot is a reminder that we are a family here at UC Merced.
"In the face of any situation, we are resilient and come together as one community."
For Memon and students like her, the fact that UC Merced is the newest of its sister campuses, hasn't held them back from making a name for themselves.
"We may not be the largest yet, but our mark will never be forgotten," she said. "We will always be proud Bobcats; we will always be #BobcatStrong!"