A team of UC Merced researchers was recently awarded $100,000 from Pacific Gas and Electric Company (PG&E) to identify ways to improve drought resilience and reduce the risk of wildfire in Sierra Nevada forests.
Professor Roger Bales, who also serves as director of the Sierra Nevada Research Institute (SNRI), Professor Martha Conklin and SNRI Research Scientist Mohammad Safeeq will develop new approaches to accelerate the pace and scale of forest restoration in Calaveras County.
"Research supported by this PG&E grant will provide land managers with a much-needed understanding of the forest-water-fire nexus. It will also provide the tools needed to increase forest resiliency in the Sierra Nevada," said Safeeq, who also served as the proposal's primary author.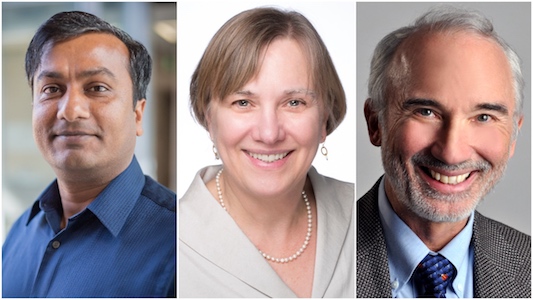 Bales, Conklin and Safeeq will expand upon studies of the recent California drought and develop new tools to assess drought vulnerability and the resilience of forested areas. They'll collaborate with local land managers and stakeholders to test and refine these tools in central Sierra forests, then communicate their findings to the public to engage broader support for investment in forests.
"Managing forests for resiliency requires both obtaining the scientific knowledge and expanding stakeholder support," Conklin said. "This grant enables us to develop effective assessment tools and build our capacity for active stakeholder participation."
UC Merced was one of two institutions selected to receive funding from PG&E's Better Together Resilient Communities grant program in its inaugural year. The Karuk Tribe of California was also awarded $100,000 to develop a plan for addressing critical infrastructure needs and protections to implement prescribed burns in Humboldt County. The two proposals were selected from a competitive pool of 37 applications after a thorough review by an advisory panel of community leaders and sustainability experts.
"These grants are about funding innovative ideas for helping those who live in highly vulnerable areas prepare for the reality of climate change. We believe that drawing on the expertise and established partnerships of these local organizations is the best way to find effective solutions to an urgent problem," said Geisha Williams, CEO and President of PG&E Corporation.
The program will invest $1 million over five years to fund local initiatives that improve climate resilience throughout Northern and Central California, focusing in its first year on forest resilience, wildfire prevention and sustainable watersheds.
"The recent drought has increased the demand by local stakeholders for science-based assessments that consider how dense forest can be sustained by available precipitation in a warming climate," Bales said. "This grant will help us to work with stakeholders and provide these assessments."