If this year's Giving Tuesday was a success — and by every measure, it was — that success was due in large part to the generosity of UC Merced students.
The day-long fundraiser surpassed its goal of 1,000 donors in a day, with $280,000 contributed in just 24 hours. Over its four-year history, Giving Tuesday has helped UC Merced raise more than $1.3 million. For those familiar with UC Merced's engaged student body, it's no surprise that students were instrumental in making it all happen.
Though college students often find themselves straining to make ends meet, more than 600 UC Merced students contributed over $7,000 (including matching funds) during this year's Give Tue UC Merced campaign, choosing to invest in their peers and their community even when doing so stretched their budgets.
Some students credited their philanthropy to their own experiences of hardship. For them, giving was a way to ensure that others weren't burdened by the same impecunity that they've endured.
"Even though I'm on a tight budget, I'm still giving," said Kehily Maldonado, a third-year biology major. "UC Merced gave me the opportunity to come here and they paid for nearly all of it. I want the next generation of students here to have the same opportunity."
The following article appeared in the December 2017 issue of Merced Monthly, an e-newsletter for the UC Merced campus community and friends. To subscribe, click here.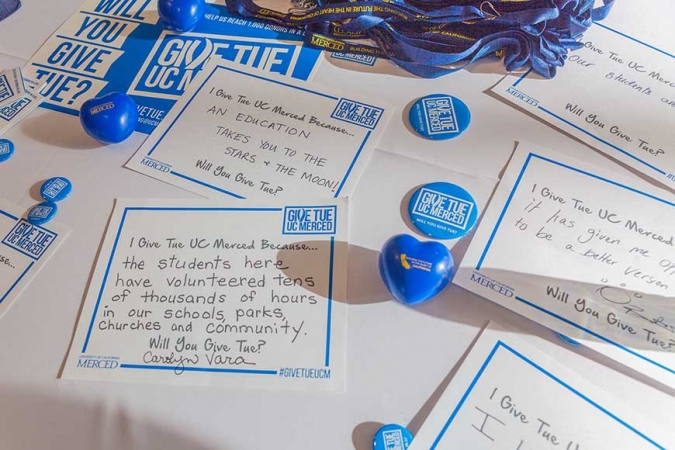 Maldonado, a Moreno Valley native who hopes to attend dental school after graduating, gave to the School of Natural Sciences Scholarship, one of 14 scholarships where donations were matched 3-to-1 with funds from Foster Poultry Farms. Maldonado hopes her gift will help other aspiring scientists stay in school.
"I know there's a lot of people that get accepted and come to UC Merced, but struggle financially," she said. "I want students to have the opportunity to stay here and not worry about money."
Edgar Ibarra gave for very different reasons.
The fifth-year management and business economics major from Pico Rivera gave to the Dream Act Scholarship, an act of solidarity with students whose immigration status makes it difficult for them to get the money they need to pay for college. The Dream Act Scholarship was the most popular fund among student donors.
"I was born in the U.S., but I really support people from outside of the country coming and getting a better education," he said.
Eager to make the campus a safe and welcoming place for students from around the world, regardless of immigration status, Ibarra said that his only regret is that he didn't give sooner.
"I found out about it last year but didn't donate," he said. "This year I was reminded about it and thought I definitely have to give. Hopefully the money grows the campus and makes our campus a place that helps students from other countries."
UC Merced gave me the opportunity to come here and they paid for nearly all of it. I want the next generation of students here to have the same opportunity.
For those students who had forgotten about Giving Tuesday, Carolyn Vara was there to remind them.
Vara, president of the San Joaquin Valley UC Alumni Network and a longtime UC Merced supporter, spent the day at "Give Tue HQ" on campus, encouraging passers-by to donate. Equipped with $1,000 in $1 bills, Vara matched every dollar students gave with a dollar of her own.
"I grab students and some of them ask 'what's this?' So I explain it to them," Vara said. "Some say they don't have money to give. But I tell them that if they'd just give a dollar, with 3-to-1 matching [on top of Vara's own], it can turn into eight. Just $1 can have a real impact."
Angelica Soza, a third-year cognitive science and psychology double major, was inspired by Vara's efforts.
"The fact that Carolyn is matching shows she really cares," Soza said. "I want to give back in the same way. I say it all the time, and I know it's cheesy, but I want to change the world. I think that all starts locally."